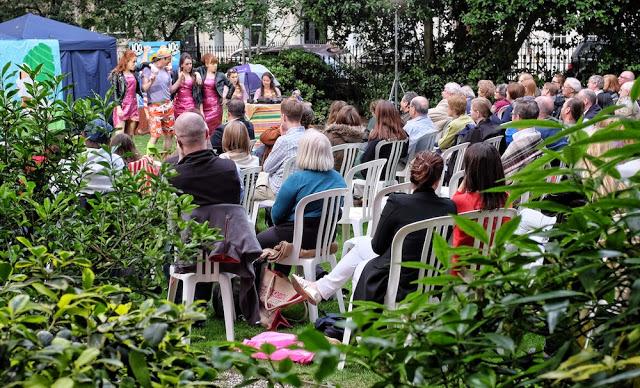 David writes…
To play's the thing.
Something so English, so summer-in-London about this scene.
A leafy, well-heeled, key square in central London. Garden furniture. A small pavilion tent or two. Some rough-and-ready-but-gets-the-job-done lighting. An all-ages, jolly, life-is-good audience of residents. A sparkling young theater company* – the boys in ridiculous hats (let alone shorts that wouldn't be caught dead on Waikiki's Dress Your Worst Day), the pretty girls in skimpy, spangly, shimmery dresses. The company-audience rapport. The energy. The sparkling fun of what's going on. The private-but-not-private setting. The devil-may-care attitude to the weather. The great national poet making his presence felt in a pitch-perfect, hail-fellow-well-met way (the play's A Comedy of Errors; the production couldn't be more up-to-date, accessible, rivetingly clear, fun). The thumbs up to silliness and high spirits and cock-a-snookery-to-respectability-and-restraint.
This is London.  This is summer. This is summer in London.
Gets my vote.
*The PrincipalTheatre Company. Look 'em up, they're good news.