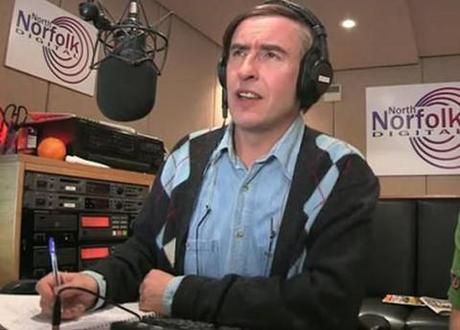 Alan Partridge: Back of the net! Or rather, back to TV. Photo: Publicity still
The background
Ah-ha! Yes, it's everyone's favorite North Norfolk entertainer, Alan Partridge – and he's coming back to television. Sky Atlantic will be showing two new one-hour Partridge specials, starring comedian Steve Coogan.
Partridge, a parody of sports and light entertainment presenters, began on the radio, and then had his own series on BBC television, which was followed by a sojourn on the internet with Mid Morning Matters.

The first of the new Sky specials, Welcome to the Places of My Life, will show Partridge looking at the places in East Anglia that formed him, reported Sky News. In another, Alan Partridge on Open Books with Martin Bryce, he will be interviewed in a book club. The specials will be executive produced by Steve Coogan, as well as Armando Ianucci, who is also involved in the forthcoming film version, as reported on Periscope Post. Coogan was one of the high-profile victims of phone-hacking, incidentally, at the hands of the Rupert Murdoch owned paper The News of the World; it has been pointed out that Sky is also owned by Murdoch.
"Coogan said: "Alan has been off the TV for too long but he is even more excited than me about his chance to have a second bite of the cherry. Alan feels the second decade of the millennium is the right time," quoted on Sky.
No Monkey Tennis?
Alan Partridge's TV career "famously came to an end when he thrust a lump of cheese in his commissioning editor's face," reported The Guardian. Partridge's relationship with the BBC was "always complicated," said Sameer Rahim in The Daily Telegraph. But this time round he's not doing "Monkey Tennis", more's the pity.
On Twitter, most were happy
Alan Partridge to return to TV? Cash back!

— Carl Parmenter (@carl_parmenter) May 18, 2012
There was, however, a voice of dissent
Am I alone in seeing the hypocrisy/irony of Alan Partridge moving to Sky #Hacking #InBedWithMurdoch #Kerching

— Lee Rand (@UglyGeezer) May 18, 2012
 Some quotes to keep you happy
Alan: How much is a Monkey?
Builder: £500.
Alan: Errr, well how much is a mouse?
Builder: There's no such amount. A pony is £150.
Alan: I'll give you £200, that's a Pony and a bag of hooves!!
And who can forget this classic: "Dan! Dan! Dan! Dan! Dan! Dan! Dan! Dan! Dan! Dan! Dan! Dan! Dan! Dan!"
Watch Alan shouting for Dan here!