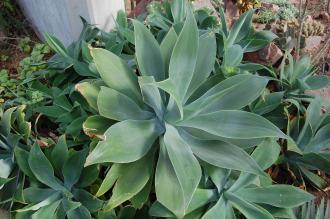 Agave attenuata (28/02/2016, Kew Gardens, London)
Position: Full sun to light shade
Flowering period: After approximately 10 years in spring
Soil: Moist, well drained
Eventual Height: 1.2m (flower spike up to 3m)
Eventual Spread: 1.2m
Hardiness:  9b, 10a, 10b, 11
Family: Asparagaceae
Sub Family: Agavoideae
Agave attenuata is an evergreen, rosette forming shrub. Its fleshy light grey/ green leaves are ovate with entire margins and an acuminate tip, up to 60cm long and 16cm across. It leaves are arranged in a rosette. Over time, as its lower leaves fall off a stem will appear, this stem may reach a length of up to 1.5m. Its green/ yellow flowers appear as dense racemes on flower spike which may be up to 3m long. Each plant usually flowers once, usually after 10 years, after flowering it usually dies. It produces rhizome like offsets which helps the spread of this plant. Its root system is shallow and fibrous.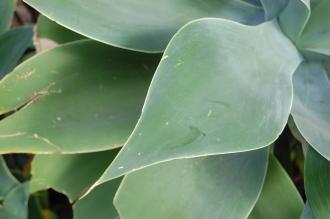 Agave attenuata Leaf (28/02/2016, Kew Gardens, London)
Agave attenuata, commonly known as Lions' Tail Agave, Swans Neck Agave or Foxtail Agave, is native to central Mexico. In its native habitat it grows on rocky outcrops and at the margins of Pine forests on the plateau of the State of Jalisco at an elevation of between 1,900m to 2,500m.
The etymological root of the binomial name Agave is derived from Greek mythology being the daughter of Cadmus, who supposedly founded the city of Thebes. Attenuata is derived from the Latin attenuo meaning 'to reduce in size', in reference to its leaf.
The landscape architect may find Agave attenuata useful as a dramatic specimen plant. Once established this plant is drought tolerant. This plant may be growing as a houseplant providing sufficient light and room are given. It would be suitable for conservatory or atrium type conditions.
Ecologically, Agave attenuata flowers are attractive to nectar loving birds and pollinating insects.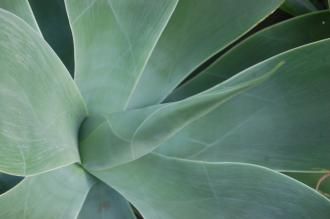 Agave attenuata Leaf Tip (28/02/2016, Kew Gardens, London)
Agave attenuata prefers moist, well-drained soils. It tolerates most pH of soil. It will tolerate poor soils.
When maintaining Agave attenuata as a houseplant its soil should be watered regularly. Watering should be reduced during the winter months. Its preferred active growing temperature rages from between 14ºc to 24ºc, although it will tolerate a temperature as low as just below freezing. Feeding with weak fertiliser solution should be carried out once a month during the growing season. The removal of dying lower leave will help to create a tidy appearance and expose its stem.


Landscape Architecture