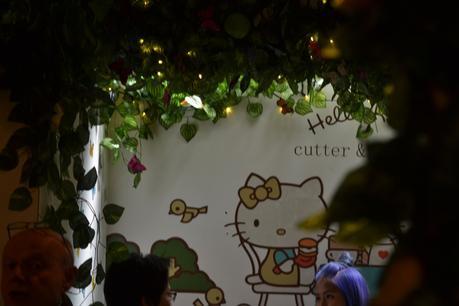 Englandfoodlifestylereview
Afternoon tea at Cutter & Squidge's Hello Kitty Secret Garden.
6.7.16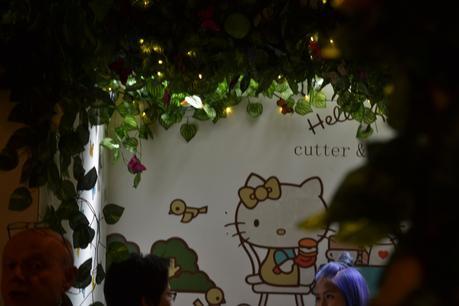 The most adorable afternoon tea you ever did see.
By now I'm sure it's no secret at all that I'm a huge Hello Kitty fan. As a second-generation British-Chinese gal, I grew up on a culmination of imported Hello Kitty, Sailor Moon, Pocky, Pokemon and Doraemon goods amongst many others. Since my stint as an expat in Hong Kong, I'd made it my almost mission to visit as many Hello Kitty-themed eateries and pop-ups as possible so
naturally
I had to visit the very first pop-up in Europe… located in none other than our London's very own Soho!
Yep! This summer,
Cutter & Squidge
plays host to the Hello Kitty Secret Garden! (Hong Kong has its' own HK Secret Garden situated in Tai Hang, if you're interested!) Quirky, cutesy and full of pastel wares, I couldn't think of a better European host for my beloved Sanrio cat/human. Cutter & Squidge is an all-natural, family-owned bakery, with a focus on wholesome yet delicious sweet treats and I'd class it as pretty-much-vegetarian. Bar a few pieces.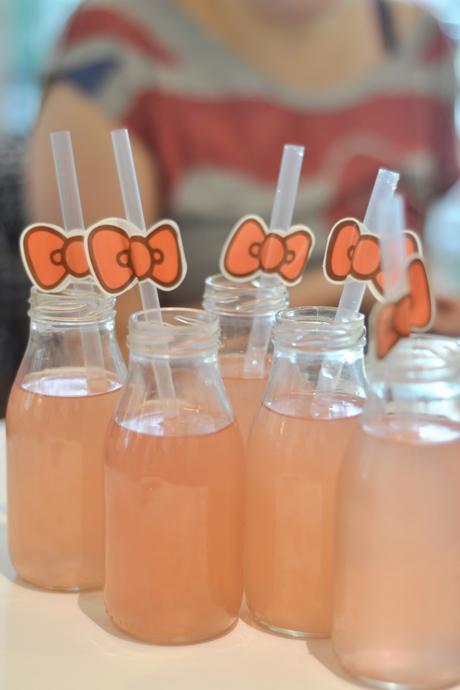 Anyway!
Saturday 2nd July 2016 saw
Hannah
, Lily,
Sarah
,
Sophie
and I get together once again for an infamous session of putting the world to rights, swapping handbag gossip and planning to take over the universe over all the food. Upon arrival to the bakery at 2pm, we were prised with pink lemonade whilst our table was prepared for us. It seems to be a super popular pop-up tea and the table time offered to us gave us 1 hour 30 minutes, hence the short wait.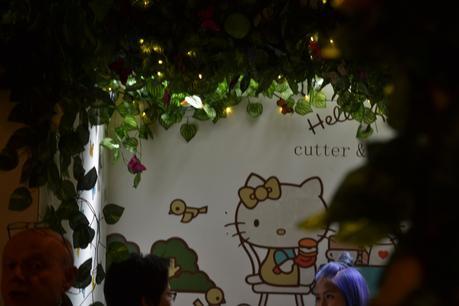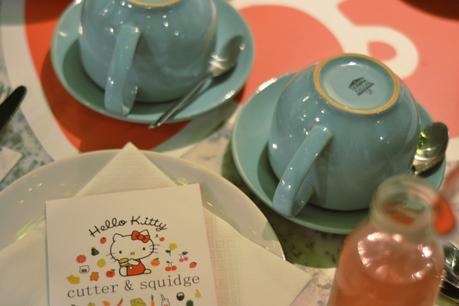 Once guided downstairs, the Secret Garden is just beautiful. So cute.
Our afternoon tea set was served to us in traditional Chinese dim sum bamboo steamers which I suppose I found odd but made a lovely nod towards Hello Kitty's Asian roots. Kind of. Sanrio is Japanese, but whatever.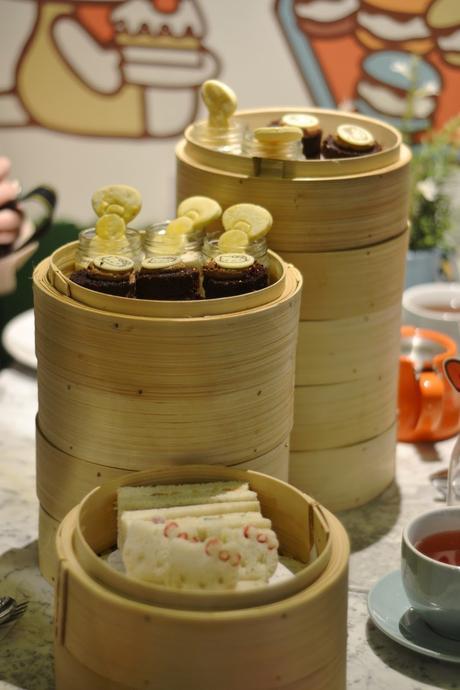 Three tiers of savoury treats, three tiers of sweet. Unlimited food and tea. Perfect.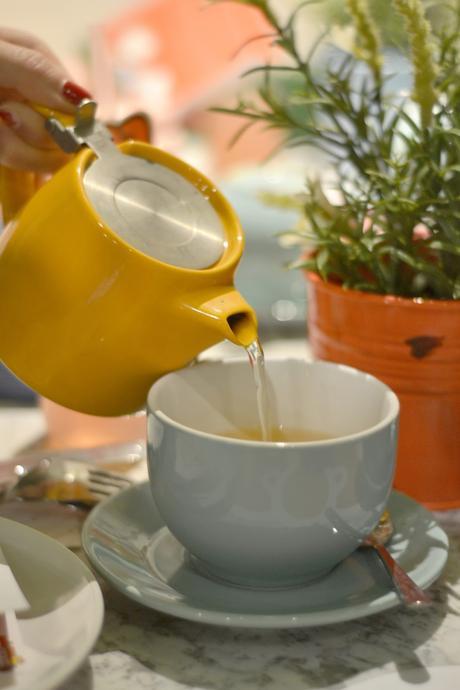 I selected the limited edition Hello Kitty's Mama's Apple Pie tea, a deliciously warm chai-inspired tea with pinches of apple. I found it to be quite festive in taste and would probably recommend you opt for the peach and lychee to compliment this particular afternoon tea set.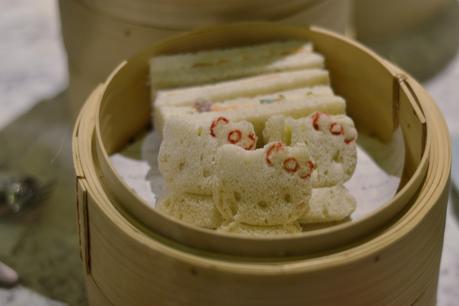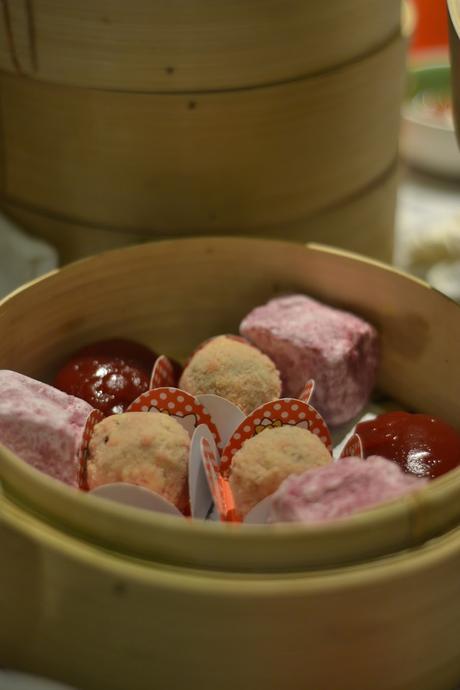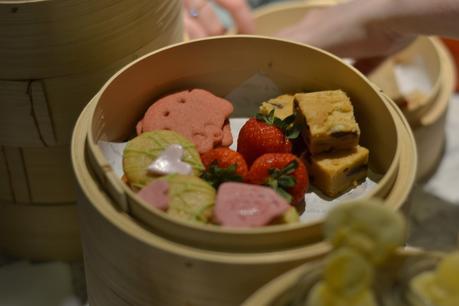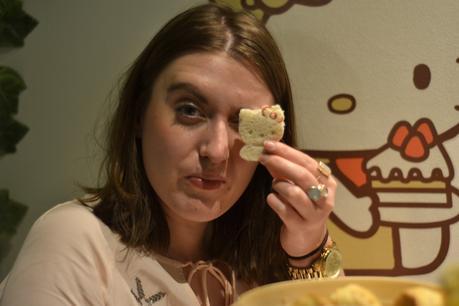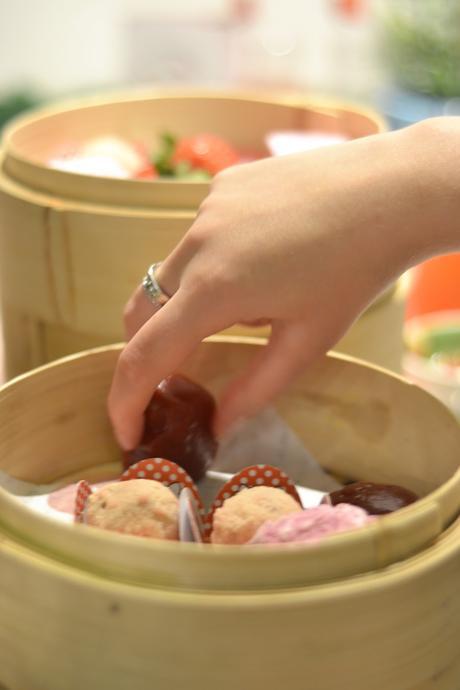 My favourites? The delicious cheese and red onion chutney sandwich (yum! Seriously craving this even as I type!), coronation cracker, Kitty's Chocolate Mud Pie, Mama's Apple Pie Mousse and the infamous Strawberry Milkshake Biskie. I think we were all nervous about OD-ing on the sugar but we were left very pleasantly surprised by a very carefully considered and therefore well-balanced menu.
Service was lovely and friendly, the girls were more than happy to help us get our Instagram game up, even when it was super busy, and we were indulged in our savoury and sweet food refills with no problem at all.
At £40 for the adult menu (£20 for little ones!), this afternoon tea is not one for the faint-hearted. Of course it is also sans hotel or posh establishment, so whilst a little pricey for what is a glorified cafe set-up, I would still hand-on-heart recommend booking ahead and popping in if you're into all things kawaii!
It's also worth noting that, upstairs, there's the most wonderful selection of Hello Kitty baked goods to treat yourself to and take away, whether a single slice or an entire celebration cake!