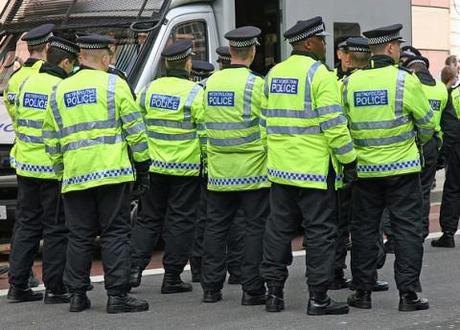 The police. Should they be armed? Photo credit: Chris Brown, http://flic.kr/p/6bPcyZ

The background
Nicola Hughes and Fiona Bone, two police officers, were murdered this week in Manchester by guns and a grenade. Dale Cregan is being questioned with regard to the shootings, which took place as the two women investigated a suspected burglary.
Their murders have caused a reignition of the old debate: should police officers be routinely armed? Some are calling for more police officers to carry weapons; others say this is a violation of the British system of policing.
Arm police, bring back death penalty
These women took up the tough challenge of policing, said Leo McKinstry in The Express. They were courageous, "compassionate and selfless." The work the police do is not admired enough. They should be armed. Society is "much more dangerous," which means police are "ill-equipped." Not everyone should carry guns, sure, but "a much higher proportion should." In fact, let's bring back the death penalty to "act as a deterrent and also rebuild the authority of our civic institutions."
Don't let one criminal spoil it all
It's true that more criminals carry guns, said Stephen Glover in The Mail. However, to suggest that more police should be armed is "mistaken," as having unarmed police is "one of the cornerstones of our freedom." We trust the police because they don't carry weapons; therefore we respect them and want to help them, not regarding them as "threatening." It's not even clear that Bone and Hughes would have been saved even if they did have arms. We shouldn't let "one pitiless murderer convince us" that we need armed police.
Don't use these deaths for political ends
These two women, said Duncan Campbell in The Guardian, show that "for every foul-tempered officer whacking a passer-by" there are "countless others who accept the risk of a violent assualt." In Britain, a police officer's death is still "a major event, not something taken as inevitable." Calls for a death penalty to be reintroduced, and for officers to be armed, "should be resisted." These two women "represented the police service as it can be and at its bravest, and it would be a poor memorial to their courage to use their deaths for narrow political ends."