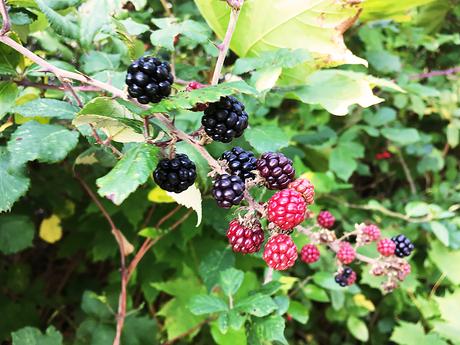 After School Blackberry Picking
Hands, both large and age worn, and small and delicate, snake past dangerously sharp thorns as they reach deep into the thick, tangled, bramble, seeking out the ripest, most succulent of the bushes succulent berries. Purple stained child's fingers are sucked clean of the sweet, almost intoxicating, juices. While muffled curses are grumbled as needle like thorns stab into adults fingers. Yep this is after school blackberry picking at its finest.
After School Blackberry Picking
Sweet, juicy, sticky, and deliciously dark, the deep purple, midnight coloured, blackberries are in abundance at this time of year, and there's nothing the little lady likes more than grabbing a free snack as we explore the great outdoors. But sometimes one or two isn't enough of natures free sweets, so we decided, as a family, rather than jumping on the bus and racing home from school, just to waste a few hours watching Youtube, to instead wander the meandering cycle routes of Milton Keynes, winding our way home and collecting a tub full of these tasty treats.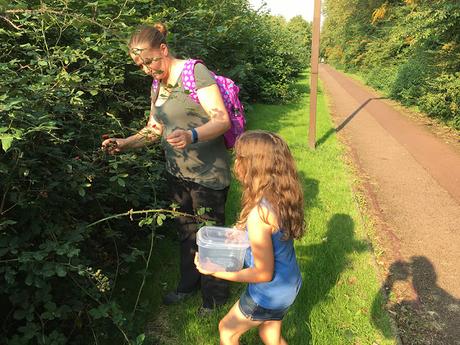 The Girls Deep into the Picking
Quick Change
Underpasses make excellent changing areas, so long as someone keeps watch either way for passers by, so uniforms were swapped for street clothes, and we were off. The sun was beaming down strongly on us as the mini heatwave continues, so a constant supply of cool drinks was required as we made our way slowly back home, the 4km taking longer than usual as we made regular stops to check the brambles for extra berries, slowly covering the bottom of our tub from view.
Remembering to leave enough for nature, we eventually quarter filled our pot with a mix of mainly the sweetest berries but the occasional much tarter, cheek clenchingly sour fruits, it all adds to the thrill of blackberry picking, you never quite know what you will get.
Of course now we have to decide what to do with those we picked.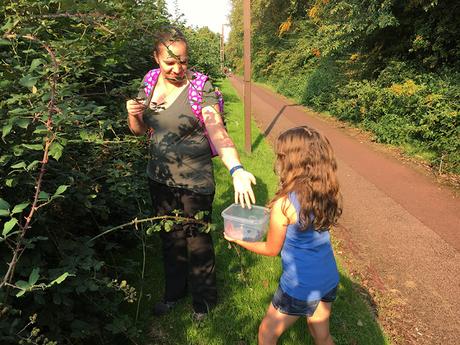 Collecting Plenty
Rules of the Forage
We, as a family, have a couple of rules when it comes to foraging in nature.
Don't take them all! Always leave plenty for the birds and other wildlife to eat.
Never eat the ones from beside roads without giving them a good wash (I'm never fully sure we should eat any from near roads, even washed, but it hasn't killed us yet).
Make sure you KNOW what you are picking (don't pick berries you can't identify)
Try not to get too badly stung/spiked/bitten.
Have fun
Pretty simple really.
For those thinking of foraging for blackberries, a great resource is the website 
FallingFruit.org
 an online resource for wild growing fruits, you can add your own sightings as well which means others can then also enjoy your bounty.
If you enjoyed this post, or found it useful, then please do share it with your friends using the links below
Please feel free to leave me a comment, I really appreciate the interaction and will reply as soon as I can. I apologize for any issues with posting comments, but sometimes Google's blogger platform plays up. ALL comments are moderated for SPAM, so please don't bother if the comment is unrelated to the post it will likely be deleted.