With putts rolling into the cup and memorable fist pumps showing shades of the "old"  Tiger Woods, watching the back nine on Sunday at Muirfield Village was like reveling in the return of an old golf buddy.
There was an electric current flowing through the air with fans anxiously holding their collective breath waiting for Woods to fumble, waiting for Woods to miss another putt...but none of that happened. Instead, a focused Tiger pounced on his shots and gave fans a show worthy of the 2012 season highlights reel.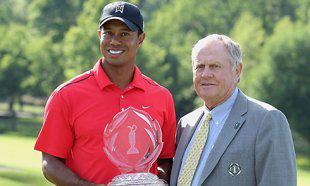 Television cameras aimed their focus on Jack Nicklaus on several occasions and spectators could see an anxious golf hero of old waiting impatiently to officially greet his successor.
"If he's going to do it, which he was obviously going to," Nicklaus said, "I'd like to see it happen here,"   ...and it did.

When Tiger Woods finally met with Jack Nicklaus at the edge of the 18th green, handshakes and congenialities were exchanged and voices of the past exclaiming that Woods had no shot at Nicklaus' records were quieted.
And now questions of breaking Nicklaus' major records are being raised. Can Woods do it? Six months ago this same question would have been met with questions; Is his achilles healed...how is his swing...is his head in the game?
From ESPN which conjectures that "Tiger is on track heading to U.S. Open" to Golf Channel which put the question up to the fans for discussion, opinions are mixed at best. ESPN "experts" place Tiger's chances on or about twenty-five percent (except for Collins who raised the stakes to seventy-five percent) stating that Woods' game needs work, from his driver to bunker shots to putting. Fans on Golf Channel like Tiger's chances with a big "but"..."you never know what a guy's going to do week-to-week."
One thing fans can be sure of is that Woods will be "riding the momentum to San Francisco" in two weeks.
Voice your opinion on Twitter @Golf4Beginners and friend us on Facebook.
Photo credit: yahoo.com