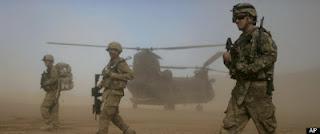 via HuffPo
Support for the war in Afghanistan has hit a new low and is on par with support for the Vietnam War in the early 1970s, a bad sign for President Barack Obama as he argues that to end the war responsibly the United States must remain in Afghanistan another two years.
Only 27 percent of Americans say they back the war effort, and 66 percent oppose the war, according to an AP-GfK poll released Wednesday.
A November 1971 Harris poll showed a record-high 65 percent of Americans said that continued fighting in Vietnam was "morally wrong." By that time the United States was already drastically cutting the size of its fighting force in Vietnam on the road to a full withdrawal in 1973.
What's your opinion? Don't you think Obama can talk his way out of this one?
Please leave a comment.