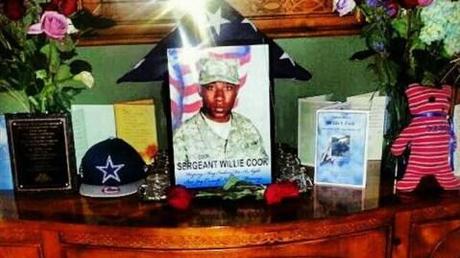 Indiana National Guardsman Sgt. Willie Cook died earlier this month as he shielded his son from a barrage of bullets.  The army vet had just returned from a year-long deployment in Afghanistan.  Cook was in his car on his way to visit his grandmother on Feb. 2 when a gunman opened fire on him and his 2-year-old son, Antoine.  Cook threw himself on top of the boy, likely saving his life.  Antoine had been shot, but survived the 15 bullets that were shot in his direction.
Cook's fiance Laquana Norwood in a phone interview with ABC News said:
"From my understanding when they started shooting, Will started taking off his seatbelt. Antoine was sitting behind him. Will got grazed in the neck by a bullet and then when he turned around he got grazed again in the side. By the time he had completely turned around to shield Antoine that was when they hit Will in the back of the head. He was DOA."
Norwood and Cook were planning on getting married this June.  Sadly, that will not happen.  Antoine will grow up always traumatized of the violence that killed his father.  Police suspect this was a case of "mistaken identity."  So because a gang member wanted to enact his/her "revenge" this hero was shot to death.
Because of "mistaken identity" we lost an American hero.
Because of "mistaken identity" Laquana has become a single mother and has lost the love of her life.
And because of "mistaken identity" and "revenge" Antoine will never see his father again.
In October, ABC News had a special telecast just on Chicago gang violence.  I wrote how irate I was that these senseless crimes occur in our city, or for any city for that matter.  Hadiya Pendleton died last month.  Sgt. Willie Cook died this month.
How many more innocent people have to die before we as citizens do something about it?  Obviously relying on our politicians isn't working.
Email: [email protected]
Twitter: @adrakontaidis & @talkrealdebate