I LOVE my crockpot, I use it at least 4 nights a week.  Before I started using the crockpot we had the same meals every night... chicken, steak, or fish made in the oven and veggies. With the crockpot I am able to do a lot more and everything turns out delicious. I find it makes supper time MUCH easier and there are so many possibilities. Plus, if you get your meat on sale you have a healthy, inexpensive meal!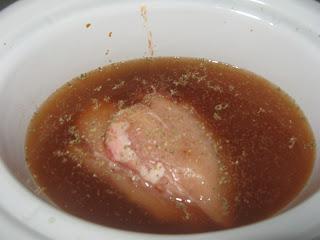 We only buy chicken when it is on sale. Regular price chicken around here is about $15-$17 for 4-5 pieces of skinless, boneless chicken breast. Recently when it was on sale I bought 2 packages for around $7 each and ended up with enough chicken for 5 meals for our family or four. If you buy bone-in chicken it is much cheaper.
As for roast, which I think might be my favorite meal, we only buy it when it is on sale for around $7. Again, we don't need a huge roast since there is only 4 of us, when we buy a roast we usually eat it all for supper, so if you want left overs you might want something a little bigger! Also keep in mind that the cheaper you go with roast there is more fat you are going to have to east around.
Finally steaks, probably the easiest/cheapest thing we find, because you don't always have to wait for a sale to find a good price. I bought two decent size steaks for $2.50 each and the fed the four of us for one meal. We also buy the 'club packs' for $7-$10 there are 3 bigger sized steaks that do almost two meals.
Now that that's out of the way, I want to share some of my favorite/easiest ways to use the crockpot! Seriously these are ridiculously easy and the meat turns out good!
Chicken and Barbecue Sauce - Serves 4 people, half a breast each.
2 Chicken Breast
1/4-1/2 bottle barbecue sauce... Any kind you want! I use the 'calorie wise' stuff.
Water - enough to almost cover the chicken.
Tabasco Sauce if you want it a little spicier!
Spices: Oregano, Onion Salt, Garlic Salt
That's it... There's no order really, I just put the chicken in the crockpot, add barbecue sauce and water, Tabasco sauce and spices. I usually put it in for 4-5 hours on high but if you are doing it in the morning you'll want to put it on low. 
Steak and Mushroom Soup - Serves 4 people, half a steak each.
2 Steaks
Can of low fat Cream of Mushroom soup
Oregano - if desired! I put oregano on everything.
Again, super easy, just put the steak in and add the soup and oregano. If you are doing it in the morning cook on low, or I do 4-5 hours on high. The steaks come out so tender you can cut them with your fork!
Cheesy Chicken - Serves 4 people, half a breast each.
2 Chicken Breast
Can of low fat Cream of Chicken soup
1/2 Cup of Chicken Broth
4oz of low Fat cream cheese
Salt and Pepper and oregano if you wish.
This one is DELICIOUS. The recipe actually calls for 8oz of cream cheese, but I find it's too much if I use that, plus it's less calories and I can save the rest of another night. You may want to melt the cream cheese before putting it in the crockpot because I find it doesn't melt very well otherwise. Add your chicken, soup, broth, cream cheese and then sprinkle your salt and pepper to taste, and oregano if you wish!
I have also made chicken with cans of cream of chicken or mushroom soup, or you can also buy pre-made mixes in little packets that you throw in with your meat and add water. There are also recipes for lasagna, and you don't need to cook the noodles before hand! Not to mention desserts!! Can you tell I'm a crockpot fanatic?! 
Do you have a crockpot? Please share your favorite recipe!