You've setup your small business and now want to advertise online with a set budget.
What do you do now?
Google AdWords, is a pay-per-click advertising that gives small businesses the opportunity to get the word out about their product or service to targeted groups of people who are interested. You can start with a small budget, as little as $100 (to really get results), Google AdWords is extremely beneficial in getting the right web traffic for your services and products.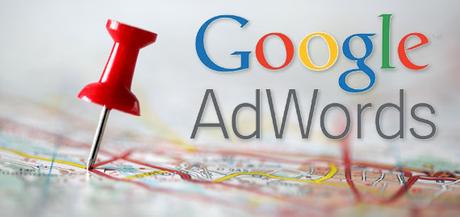 Here's How To Benefit from Google Adwords (PPC) Advertising:
Choose where your ad shows up in search.
Choose targeted keywords.
Create ad copy (what potential customers will see on search).
Set your cost-per-click (CPC) budget.
Track the success of your ad campaigns.
Get charged ONLY when someone clicks on the Google/partner ad.
Have ads appear along with content that matches your company.
For example; If you sell "Baby cribs" and someone searches for "baby cribs," your ad would be most likely to appear for that keyword based on your CPC bid and budget.
Reach new customers you otherwise wouldn't reach with organic search.
Target specific groups including mobile users
In February 2013, Google AdWords was updated so advertisers can start targeting mobile with the ability to choose a specific device, such as an IOS or Android. You can set a target time of day for your ads to show on search. This update is called "Enhanced Campaigns".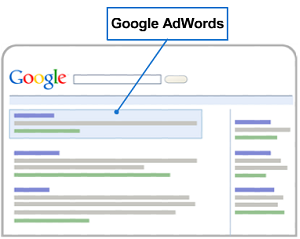 You can view ads showing up on the Top of Google's search results page under the words "sponsored links and AD in green". How high in the list your ad appears depends on how closely your keywords match a user's search term, and how much you're willing to bid for each click to your website.
So how do you get started with Google AdWords?
Simply follow these three steps to get started with a free account:
Step 1: Create a Google Adwords Account
Creating an Adwords account is quick:
Go to: https://adwords.google.com
Click the button that says "Start Now"
Enter your account details (e-mail, password, currency and time zone)
Log into your email, open the e-mail from Google AdWords, and confirm your e-mail address to link your accounts.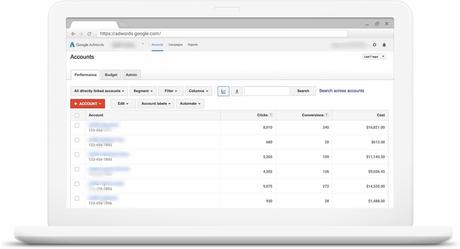 Step 2: Create Your First Adwords Ad Copy
Creating an ad in Adwords can be fairly simple, but you'll want to consider a few things that will help you create a truly compelling ad copy that people will click on to visit your site.
After confirming your e-mail in Step 1, Google will take you to a page that allows you to create your first ad copy. You can choose a text or display ad campaign. The display ads appear as graphics with text (So you will need to have images for your ads)with a template.
To help keep you on track for success, we will focus on Text Ads Only, but both have similar set ups when you move to other steps of the campaign setup.

Ad Copy Example
Choose a text ad.
Add a headline – Your headline shows in bold and is used to grab the searchers attention, so try to grab the readers attention with this line.
Your ad headline must be 25 characters or fewer.
Fill in description line number one – This line provides additional information from the headline.
If you were browsing for your product, what would make you click on the link with the intent to buy?
You don't want to trick people to come to your site, so make sure you can deliver on any promises you make with your ad copy. Use up to 35 characters on the first line.
Remember traffic doesn't always translate to sales. 
Fill in description line number two – This is a place to add additional information that may not have fit on the first line.
You can also use a call-to-action tag here, such as "save 20% off if you order now." You have 35 characters to use on this line as well.
Where your PPC web traffic goes?
Display URL: Put address for your website as you want it to appear on search. It is best to leave out the "http://" and simply use "www.mysite.com" for ad appearance.
Destination/Final URL: This is the actual URL destination to your website landing page. The http:// is already in the drop box, so you don't need to add it.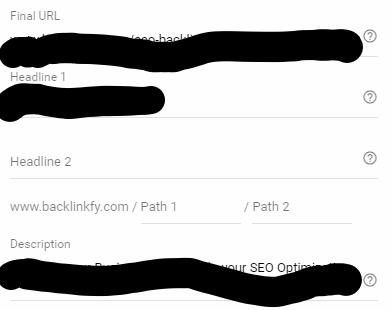 You can also choose https://. In the blank box, fill in the rest of your website address. Be sure the link is working properly and will take the visitor to the precise landing page. You don't want to pay for clicks that don't actually land on your website due bad linking or no direct landing page for the ad copy.
Carefully review the ad previews for both Top and bottom ads. You may want to enlist the help of another person to check for typos or grammatical errors for you publish your ads.
Click the blue "Save Ad" button to save your ad copy.
Step 3: Activate Your Account
After completing your Ad and you like the way the ad looks, you can prepare to run it but you'll need to activate your account first. Until you account is activated, your AD will have a red box along the top of your AdWords home page that says, "Your account isn't active because you haven't entered your billing information".

To publish your completed ad and activate your account, you will need to do the following;
To Activate-account > Click on the words "enter your billing information" within the red box at the top.
Select the country or territory from the drop box where you're located or where your billing address is and click on the blue button that says, "Continue."
Fill in your business information. You'll need to provide your business name (if sole proprietor or individual, enter your full name here or leave blank), a contact name, street address, city, state, zip/postal and telephone number. Your country should already be listed.
Select how to pay. You can sign up for automatic payments or manual payments.
Google recommends automatic payments, but if you click the wrong thing, you could wind up paying more than you initially planned on, which can really hurt someone on a limited advertising budget.
If you're starting on a small budget, it might be better to start with manual payments, even if you need to wait for them to clear before your ad goes live.
With manual payments, you'll prepay a set amount and once that amount runs out, the ads will stop until you add more funds. Click the gray "Continue" button.
On the next page, read the terms and conditions for Google Adwords. If you're okay with them, check the small box that says you have read and agree, and then click on the "Submit and Activate My Account" button.
If you chose manual payments, you'll need to make a manual payment before your ads run. Click on the gray button that comes up on the confirmation page that says, "Make a Payment" and submit your choice of payment and the amount of funds you want to add. You can pay with a credit card or from a bank account. To add more money later, simply click on the "Billing" tab and on "Make a Payment."
There are a few tips that will help your ad be more successful. Start with a plan of action:
Google Adwords Best Tips
What are you trying to accomplish?
Do you want branding, lead generation or just traffic flow? Of course, not every person who visits your site is going to buy something right away, but you can increase the odds dramatically with your campaign and landing pages.
If you sell a product that helps people find their lost iphones, using targeted keywords like "lost iphone finder" will be more successful than terms like "lost iphone" or "iphone accessories." The more targeted the keywords, the more targeted your response audience and visitors to your website.
Why you should have a PPC budget: 
All keywords are not created equal, some keywords cost more per click than others in the same group. Is that particular keyword phrase cost-effective for your ppc budget?
Is there another one that might be more targeted and gain you more clicks for the amount of money spent?
These are valid questions you should be asking when optimizing your ppc budget. 
Enhance Adwords Campaign:
On July 22, 2013, all Google AdWords accounts where upgraded with Enhanced Campaigns, which allows you to target where your ads appear and on what types of devices (you can limit to only mobile, no mobile or stick with PC only). This allows you to target the campaign even more, which will help with your point of sale conversions with better click-through rates.
Case Studies of Small Businesses Using AdWords
Using Google AdWords, small businesses have successfully grown their sales through online ads. On Google AdWords in Action, businesses like Auto Exotic Rental (AER) and GetAccept are featured as success stories.
AER case Study
By combining AdWords and Analytics, AER was able to increase their 3rd quarter sales. They saw a whopping 200% return on their advertising spending on Google adwords. CEO Nasser wanted to grow the customer base of the company and saw Google AdWords as a smart way to reach targeted Internet customers on a tight advertising budget. "Because of Google's reach, advertising with AdWords makes sense, as I knew I couldn't rely on PR as my only means of marketing," he said. Nasser advises taking the time to come up with the right target keywords for those on a tight budget and spare no time getting potential customers away from your competitors.
GetAccept Case Study
GetAccept is a different type of Google success story. They credit Google AdWords for 70% of its business and gets an average of about 40 new clients a month from ads ran on AdWords only. Of course, some of the advertising settings were trial and error for founder for them until we took over.
Google Display Analysis
The Google Display Network (GDN) reaches the majority of U.S.-based Internet users — a whopping 80 percent — giving AdWords advertisers the widest reach possible. Although this is definitely a good thing, it does come with some disadvantages. Because AdWords casts such a wide net for advertisers, launching an effective AdWords campaign requires a finely tuned strategy to reach the right customers and get a better return on investment (ROI) or you might make silly mistakes and burn through your Adwords budget.
---
To help small businesses launch more effective AdWords campaigns, we can help show the way! 
Learn More
---
Divine Tumenta is an entrepreneur and professional digital marketing expert based in Los Angeles. He has worked in digital marketing for more than 8 years. He is currently founder and CEO of backlinkfy.com and a go to consultant for startups and small businesses in the USA.
Join Us
Sign up with your email and receive exclusive tips and updates
Email Address Thank you!