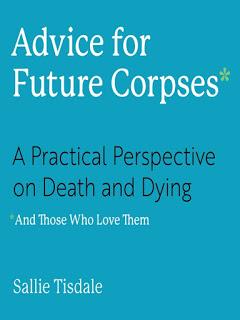 Published 12 June 2018. 
Because I teach a university class on death, dying and bereavement, I read about a half dozen books on the topic annually. 
Usually, the books take one of two approaches:
The author describes the physical, legal, and economic aspects of dying.
Or
The author describes the social, emotional, and metaphysical aspects of dying.
Tisdale does both in her book
Advice for Future Corpses: A Practical Perspective on Death and Dying.
Tisdale worked for years as a nurse, but she writes like someone who is trained in the humanities. She quotes Greek philosophers, European poets, and Buddhist monks in order to create spaces for her readers to meditate about the meaning of death and dying.
Her book is more expansive and complex than her declaration of intent, but her it is anyway:
"In this book, I look at how we grieve, what can be done with the body that remains, and the strange, undeniable fact that the presence of death can be joyful." (p. 14)
She does convey technical detail about the dying process and the health care industry. However, she also relays stories about patients, friends, family members and herself, stories that convey nuance and admit that there are no pat answers about death and dying. Nevertheless, she shares what she has learned by witnessing several people die.
Scattered throughout her book are cautions of what not to say to the dying person "
Help me get through this
" (p. 74).  She also cautions what not to do "
Do not force fluids
" (p. 115). And she gives suggestions of what to say instead, "
I love you, I hope the best for you. We will be all right. Go in peace
" (p. 123).
Tisdale conveys a lot of vulnerability by describing her close friendship with Carol and then Carol's dying process and how Tisdale responded outwardly to Carol and inwardly as a grieving person.
"After Carol died in the hospital's urgent roar, I didn't see her body for a few days. She was kept cool but not embalmed, and then dressed in one of her favorite hippie prairie dresses Her skin was hard and very cold when I kissed her. She looked dead. She felt dead. And I began to shift from Carol to Carol's body." (p. 162).
The last quarter of the book has specifics about types of funerals and disposal of the body, and she includes appendices about death plans, advanced directives,assisted death, as well as organ and tissue donation. The book is only 240 pages, but it's one of the most far-ranging books on the topic that I have read.
Related:
Books about the Dying Process