While large numbers celebrated the Queen's Diamond Jubilee over the weekend, this citizen of the Commonwealth was locked in a small windowless room without food, water or alcohol, forced to write lengthy tomes as part of a 38-hour global writing initiative.
That's not entirely true.
I wasn't exactly locked away but I was voluntarily writing furiously and I did regularly need alcohol. Fortunately, I was also out exploring my environment which included fondling, sniffing and canoodling with several exotic fruits from the local greengrocer.
It was all thanks to Kristin Bair O' Keeffe's 38Write Writing Adventure Workshop Series for Place-Passionate Writers:
"Designed for all place-passionate, culturally curious writers, including expats and repats, globetrotters, armchair travelers, nomads, cultural spelunkers, deeply rooted souls, mapmakers and mapbreakers, wanderers and wayfarers, voyagers, and all writers interested in exploring and writing about their environs."
I'll admit that I've never taken a writing workshop of any sort before in my life. These things have always terrified me.
I imagine rooms full of writerly clever clogs, brains awash with ginormous vocabularies, perfectly capable of creating literary genius within the space of a few minutes and equally capable of destroying my meagre attempts at fiction with a stroke of their well-sharpened HB lead pencil or antique feather quill pen.
Thankfully, this workshop was none of the above.
For this international writing adventure, there were 13 writers in 7 countries (China, India, Australia, England, France, the United States and Belgium). With 38 hours to complete the 400-word assignments and send back the strongest piece of writing for feedback from our published author and seasoned writing teacher, this first workshop addressed 'description'.
In the comfort of my own home and neighbourhood, I went to a fresh food outlet to seek out a green custard apple, lounged around on the deck to study the routine of a pair of multi-coloured lorikeets, and flogged myself up and down one of the Northern Beaches' most prominent sand hills to have an adventure and write about whatever grabbed my attention.
Then, in Kristin's words:
"...polish this piece. Polish the heck out of it. Untangle your sentences. Play with word choice. Rearrange descriptions. Cut extraneous stuff. Hone it. Turn it on its head. Buff it with your sleeve. Try it in first person ("I"). Try it in third person ("he/she/they"). Try it in second person ("you")."
And the end result...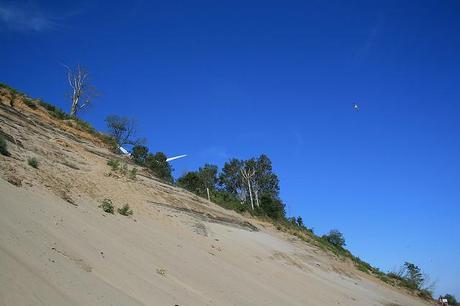 Photo credit: Damozeljane (Flickr Creative Commons)
The Sand Hill
A wall of sand rises up in front of him.
To his right, the surf's steady roar as it surges in from an angry Pacific Ocean. The tranquil inlet of Pittwater on his left.
He stands at the foot of a vast hill of sand the colour of ochre. He studies a man-made path in the sand that leads up the back of the towering monster before him. A stairway formed by footprints. Irregular, misshapen, though functional.
As he starts his ascent in the shadows that blanket the lower levels of this naturally formed behemoth, the cold sand sieves through toes that curl at its touch. Always struggling to gain purchase, soon panting heavily under the exertion and effort, the staircase of sand plays cruel games with him. He places a bare foot within a footprint, and the footprint collapses. It evaporates in front of his eyes as the sand cascades down the slope, catching in lazy drifts where the hill levels off.
The sand neither crunches nor clatters. It is voiceless. He hears only the throb of endless surf barreling in from the east, but it is a distant noise, as if smothered by the huge volume of sand around him. The air here is still and calm. The only noise is his laboured breathing.
He stops to inhale the heady, almost pungent, mix of seaweed and brine blowing in from the shore, but it is a taste of the ocean not the uneven terrain underfoot.
He breaks the crest of the mountainous sand hill and emerges into bright wintry sunlight. Here it is warmer and the heated surface bites at the soles of his feet. A gentle easterly wind feathers his face as imposing cliffs of sandstone in varying hues of gold and yellow block his path.
Looking back, the low-lying dunes at the base of the hill stretch out like a giant anaconda, weaving its way between ocean and bush, splitting the peninsula with its long golden tail. If the sand hill is the serpent's head, then flowering shrubs gather in groups upon it, tiny white butterflies dancing over their tops.
When he turns, the sand sighs breathlessly as it gives way beneath his feet. He runs without fear down the hill, arms flailing recklessly, legs spinning wildly, laughing uncontrollably, the vista of a wide-open nothing where blue meets blue cast upon his face.
What do you think? Have you ever taken part in a writing workshop or maybe you fancy giving this one a go?
If you do want to join in, sign up and jump on board for the next 38Write Writing Workshop here - Sign Up. Would be great to see you there in a month's time.
Sign up for regular email updates. It's easy and free.