Before  heading out, spend half a day exploring Windhoek, Namibia's capital city.
I'm surprised by my conversations with travelers who have been to Namibia, how many people went directly from the airport to one of the many popular adventures found in Namibia.  To be sure, game viewing, cheetah conservation, rhino tracking, sand boarding, or climbing Dune 45 will no doubt be the highlight of your visit to Namibia, but there are different sorts of adventures to be found in Windhoek.
While it is possible to drive yourself, I highly recommend doing a half-day guided tour to get the most out of your visit. Here are some of the sights and adventures you don't want to miss:
< br/ >
Christ Church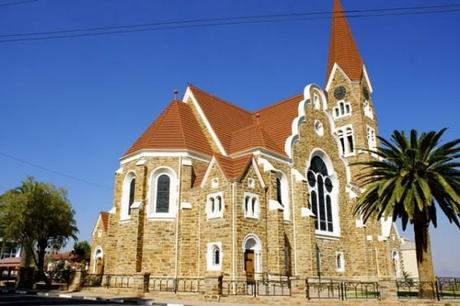 Church in Windhoek, one of the oldest in all of Namibia. The windows come from Munich and a bible was donated by a German priest.
This church built in 1910 and called The Peace Church is one of the oldest in all of Namibia. It also has a German connection, Emperor Wilhelm II, the last emperor of Germany, donated the stain glass windows and a bible still used in the church today.
< br/ >
National Museum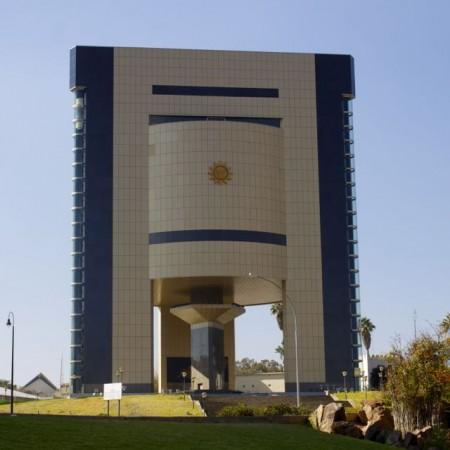 National Museum built with assistance from North Korea.
Just across the road is this distinctive building that locals have dubbed the Perculator, since it resembles a coffee maker.  It was built with assistance from North Korea more than 7 years ago, but has yet to open.  It plans to open next year and will house the National Museum which will focus on Namibia's independence.
Parliament Building and Parliament Gardens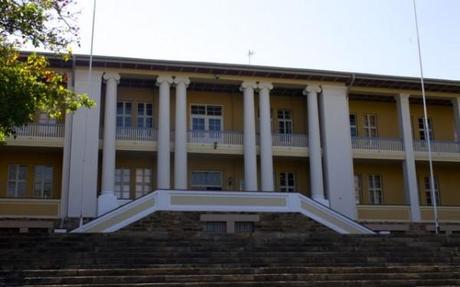 Namibian Parliament Building
< br/ >
Across the road is the Namibian Parliament Building:
< br/ >
Parliament Gardens in Windhoek
The Parliament Gardens are beautiful and a local favorite picnic spot. Wedding photos are also taken here and I can see why. It's very peaceful.
< br/ >
The State House of Namibia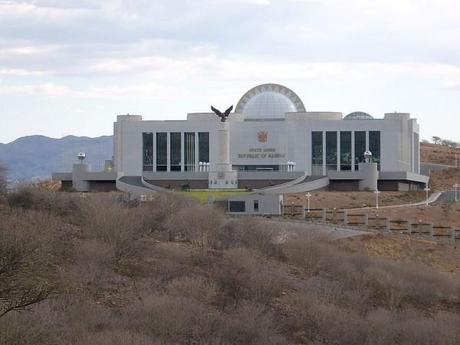 State House of Namibia
The State House of Namibia is one of the oddest buildings I've ever seen. It's not allowed to take photos, even from a vehicle, which is really a shame. I would have loved to have shared photos of the life-size elephant and lion sculptures that dot the unfinished surrounding property. Despite being built from 2002 to 2008 by a North Korea company and costing a whopping 400 million Namibian dollars (~€33 million), it has yet to be completed. In addition to the fake animals there are also real ones, including a herd of impala. But sometimes it's hard to tell the difference. What I thought was a fake guard dog, was in fact a real baboon hanging out on the roof! Again, would have loved to share a photo of a Royal Baboon with you, but….Note to the State House of Namibia, you are missing out on a serious tourist opportunity. I would have loved to have come for a tour!
< br/ >
Single Quarters Market in Katutura Township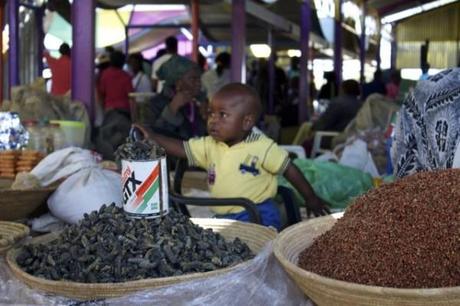 Toddler helping his mom serve up Mopane (worms) at the Single Quarter.
Next up was a stop at the Single Quarter Market in Katutura Township.  The market is named so since because it's where all the single workers once lived.  If you have never visited a township, this is where the REAL adventures begin.  Katutura translates as the place where people do not want to live -reflecting the forced removal of Windhoek's black population to the area in 1961. Today, everyone is free to choose where they live, but some of Windhoek's poorest residents live here.  It's definitely worth seeing, but you should read more about it here, if you have never visited a township before.
If the adventure of visiting a township was not enough.  More adventures await.  Are you adventurous enough to eat Mopane (worms), pictured above? I was not, but have learned that there are different styles and can be served either soft or crunchy.  Either way they're usually served with chili sauce.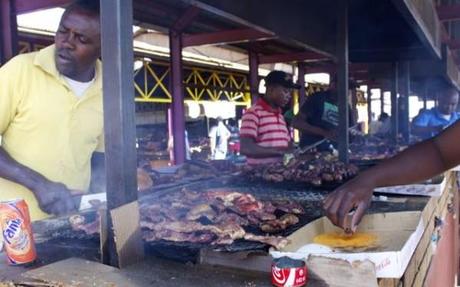 Kopana (BBQ beef) being served at the Single Quarter
Much more appetizing at the Single Quarter was the Kopana (BBQ beef).  Each vendor has his own special recipe of chili spice, so try before you buy, then buy from the one whose spice you like the best.  The meat will all taste the same.  Two days in Namibia and I've already declared Kopana my favorite food.
< br/ >
Soweto Market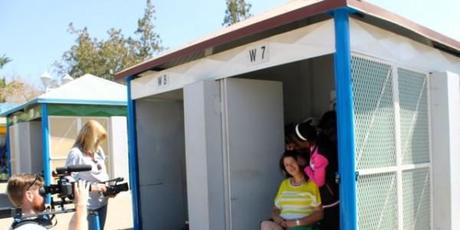 Getting my hair braided at Soweto Market.
Despite my limited adventurousness when it came to trying the Mopane, I was up for the adventure of getting my hair braided at Soweto Market.  Well sort of – I got one braid! Think it's safe to say that after two days in Windhoek, I'm not quite yet a local – but I'm working on it.
< br/ >
Grauman Water Reclamation Plant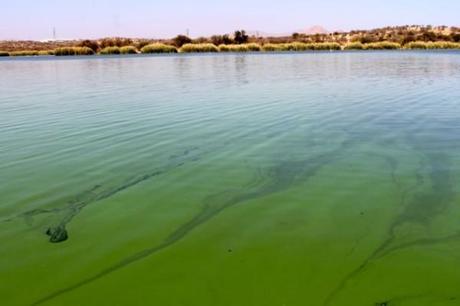 Bird watchers will want to spend some time at Grauman Water Reclamation Plant in Windhoek.
Although I didn't spend a lot of time here, I enjoyed the time I did. It's very popular with bird watchers who are on the lookout for pelicans, flamingos and geese. There were quite a few pelicans when I visited.
< br/ >
Penduka (which means Wake Up and Do Something for Yourself)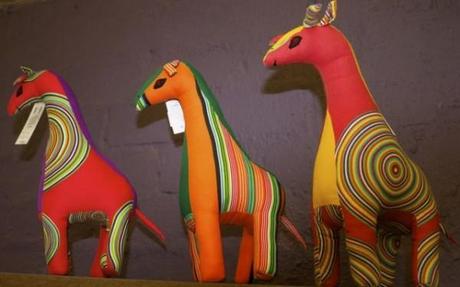 Stuffed giraffes made at Penduka, an organization which trains and employs disabled women.
Penduka is an inspiring place. It's a women's initiative created by a Dutch woman that provides training and employment to disabled women making handcrafts.  These women would otherwise have difficulty finding employment and the organization employs 35 women in Windhoek.  I really liked their stuff and bought one of the giraffes pictured above.  You can support them by making a purchase a unique and handmade gift through their online store.
< br/ >
Streets Named After Dictators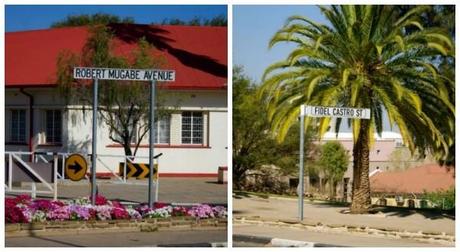 Street signs named after dictators in Windhoek.
Another thing  that may leave you scratching your head are the street names – some of which are named after dictators. It seems odd until you realize that many socialist countries who opposed capitalist countries, helped Namibia gain its independence 23 years ago.
Robert Mugabe, the current President of Zimbabwe, who was recently reelected in what many consider to be a rigged election is known as many as a dictator. But in earlier times he was seen as a hero to many Africans.  He took in many Namibians seeking refuge during the 22 year-long Namibian War of Independence and provided them with food and shelter. To this day he still provides educational aid to Namibians.
Fidel Castro also has a close relationship to Namibia.  He sent soldiers from Cuba to fight for Namibia's independence from South Africa.  Today there are still educational exchanges between Namibians and Cubans and many Namibian doctors go to Cuba to receive their training. Once you understand a little about the history, seeing streets named after dictators seems slightly less odd.
< br/ >
Eating in Windhoek is a whole other adventure in itself.  Today I ate soup with my hands.  Stay tuned and follow along at #GoBigNamibia.
Also be sure to check out 11 Reasons Namibia is Awesome!
Thank you to the Namibia Tourism Board for making my visit to Windhoek possible.  All opinions expressed are my own and I'm grateful that they did not force me to eat Mopane (worms).