Today, you get a trio of sugar-laden treats. Look away now.
Or carry on…
Caramel slice
Hungry and Frozen brought this Cuisine recipe to my attention (it's originally by Fiona Smith, who I met not that long ago, but because I don't read food mags, I had no idea who she was). I ran with Laura's version, but skipped the sea salt (she sprinkled 2 teaspoons over the top before baking). Seriously, it's dead easy – and the caramelised top layer over the not-too-firm, not-too-crumbly base is to die for.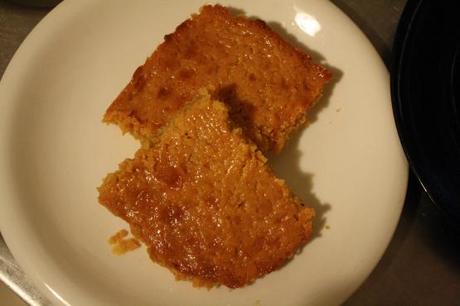 115g brown sugar
100g fine cornmeal
100g plain flour
1 teaspoon baking powder
150g butter
3 tablespoons golden syrup
395g can of sweetened condensed milk
Preheat oven to 180 C. Butter and line an average sized slice tin.
In a bowl, mix brown sugar, flour, baking powder and cornmeal.
In a pot, melt 120g of the butter. Mix this into the dry ingredients, then press the mixture into the bottom of the tin and flatten. Bake for 10-12 minutes.
In that same pot, melt the remaining butter, then add condensed milk and golden syrup. Over low heat, cook for about five minutes, stirring constantly, until it thickens and darkens slightly.
Remove the tin from the oven. Spread caramel mixture over the biscuity base, then return to oven for another 10 or so minutes until top layer is set and golden.
Chocolate peanut butter cups
This one is an Iowa Girl Eats special! In all honesty, I was low on chocolate, so I simply filled nine muffin cups with chocolate bases, and then made up the amounts to match from there. The original also called for vanilla extract, which I didn't have on hand.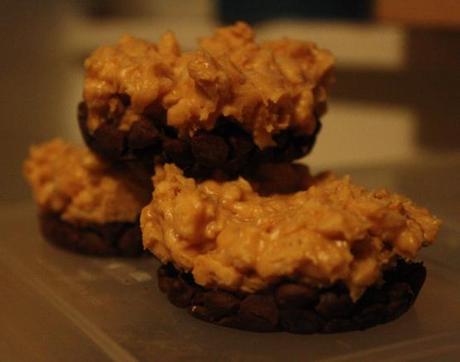 1 1/4 cups peanut butter
1/4 cup butter, room temperature
1 cup icing sugar
1 1/2 cups crispy rice cereal
1 3/4 cups milk chocolate or semi-sweet chocolate chips
Line the bottom of mini muffin cups with a base of chocolate chips. Melt in the oven at 180 C until softened (5-8 minutes, roughly).
Remove, then smooth the chocolate while still warm (flattening them with a spoon only served to lift the chocolate off the bottom, so if you do have nonstick spray I recommend greasing the muffin tray lightly as suggested! I ended up squishing the chocolate down with my fingers).
In a bowl, mix peanut butter (I used crunchy) and butter. Add icing sugar and blend in, then add rice krispies and combine.
Drop spoonfuls of the peanut mixture into each muffin cup. Refrigerate for at least 15 minutes, then go for your life.
Peanut butter ice cream
I had been hearing rumours of a peanut butter flavoured chocolate from Whittakers. Alas, as I shop at the budget Pak n Save in Mt Albert, I had yet to confirm its existence myself. In the end, I ventured to Countdown to obtain a block. I made it part of my run that day, if that makes things any better. Yes, I ran to the supermarket to buy chocolate, then came home and turned it into ice cream. Thanks again to Hungry and Frozen.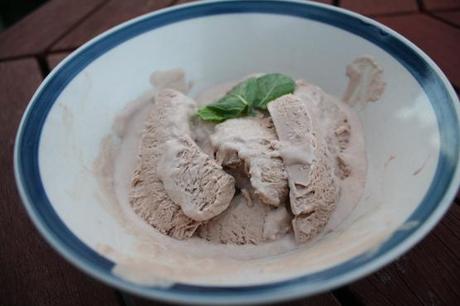 200g Whittakers Peanut Butter Chocolate
1 cup milk
100ml cream
Salt
Over low heat, melt the chocolate, milk, and a generous pinch of salt, stirring until smooth.
Pop this into the freezer (I used a 1L container from a fancy ice cream brand. It seemed suited to the occasion). Meanwhile, whip up the cream until thickened.
Once the chocolate mixture has been chillled to the point of thickening, whisk it together with the cream to make a lovely soft chocolatey mixture. Pop it back into the freezer and leave for at least a few hours so it can harden into ice cream consistency. It will become rather hard, so plan ahead and bring it out to defrost for a bit before you plan to eat it.