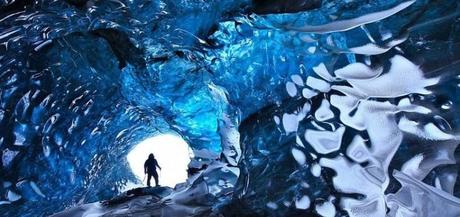 It's likely you've heard about Iceland as a travel destination more and more in recent years. If you're like me and on social media, you've probably seen breathtaking photos or many a drone video panning over its hot springs more times than you can count.
For those reasons, or if you're looking for your next international adventure, Iceland can be the trip of a lifetime. The island offers many healthy amenities for the health-focused travelers. Getting to experience Iceland could be your chance to see why the country has been ranked one of the happiest in the world.
Here are some tips for healthy travel on the happy little island:
Get Active
One problem you won't have while visiting Iceland is finding ways to get active. We rented a car for our visit, and still found plenty of paths, mountains and even glaciers to hike on. Iceland is a great destination for adventure travelers of any level.
Whether you're just interested in seeing Iceland at a casual pace or a more active one, the island offers many ways to get moving while seeing the sights. There are different programs you can sign up for led by experienced guides. Some of these programs can let you let you walk on a glacier, through ice caves and tunnels, go deep sea fishing, see the Icelandic wildlife or go kayaking! There is no shortage of active adventures you can go on to see the island.
While there are guided programs you can go on, it's also possible to do something safe exploring on your own too. My friend and I chose to rent a car and travel the Golden Circle, a major roadway on the island that takes you to many of the popular stops on the island. Most of the major tourist spots from waterfalls to glacier parks have marked paths that we followed to explore-and certainly got our heart rates up!
Soak in the Geothermal Pools
After a long day of sightseeing, you might crave a good bath or spa experience. Luckily, it's easy to find a number of hot pools and springs to kick back in. Some of these pools are still heated by volcanic energy as they have been since Viking times. Others have been installed with geothermal pools and hot tubs.
One of my favorites and also among the most popular destinations is the Blue Lagoon. Surrounded by lava rubble, the light blue water is sourced from a geothermal power station nearby. The facility includes different grottoes, steam rooms, a sauna and a restaurant. The restaurant (LAVA) has a delicious dinner menu that can be satisfying after a day of swimming around the lagoon-be sure to check out their local fish of the day and the grilled beef tenderloin!
Once you're swimming in the lagoon, you can float over to the silica station. The water is packed with the natural minerals made from dissolved rock from the Earth's mantle. The white mud is good for renewing and cleansing the skin. Putting some silica on your face or body can add to your spa experience while floating around the Blue Lagoon.
Other popular hot pools and springs you can visit on the island include Laugarvatn Fontana Geothermal Baths, Mývatn Nature Baths, Reykjadalur hot springs, and the Seljavallalaug hot pools, among others.
Lavish in Local Flavors
Along with the incredible views in Iceland, you have the chance to round out your visit with interesting local dishes. We took the chance to step outside of our diet comfort zone, and weren't disappointed. You're likely to encounter fresh fish on local menus as well as fermented shark, whale, and puffin!
Dining out in Iceland can get pricey so if you're on a budget it might be helpful to eat in for some meals. You can still find plenty of healthy and unique options in local grocery stores. A good go-to for me were Skyr yogurts-a popular item in Iceland that has a unique flavor and is low-fat. They're perfect for a quick breakfast or snack on the go!
image courtesy of Pandotrip.com