The recipe for the Double Chocolate Loaf Cake has been moved to The Usual Saucepans
Following a fit of boredom the other day I discovered an old copy of BBC GoodFood Magazine. Much to the dog's despair – no personification here what-so-ever – I chose the Double Chocolate Loaf Cake as my latest distraction. (For those who don't know, dogs aren't supposed to eat chocolate, yet ours goes dappy over the smell of the stuff). The original recipe, which I didn't really change – save for cooking time, the flour:almond ratio and substituting some of the milk for cream that need using – can be found here. Or alternatively under the cake on the page of the magazine pictured below…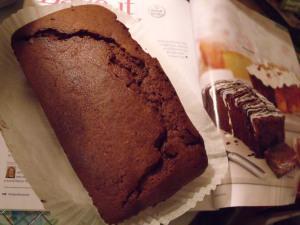 Now, whilst not a master baker* I do like to think that I have some, albeit limited and unimaginative, skills (mad or otherwise) in the art of cake making. I've certainly made enough of them. This meant that I was rather surprised to see how simple it was (famous last words). Also not being a nut-eater I was mildly concerned about the inclusion of ground almonds. But as luck would have it was both simple to make and delicious (even when being begrudged every minute morsel by my ever-present canine sidekick).
My one serious recommendation, however, would be that if you are using a commercially available bar of white chocolate (usually associated with a little blue eyed, cowboy kid on the packaging) to decorate and you happen to decide to melt it in its wrapper in a cup of boiling water be careful when squeezing it out onto the cake – the other end might burst open unexpectedly, splattering both you and the vicinity in white chocolate (which, if that's not embarrassing enough, also happens to leave an awkward coloured stain on clothing). Be careful – you have been warned.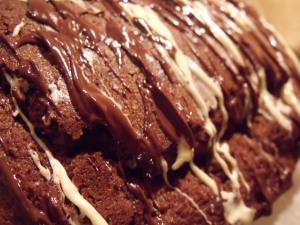 Double Chocolate Loaf Cake
This recipe can now be found on The Usual Saucepans.
It's as simple as that. By using some ground almonds instead of just flour it also helps to give it a much lighter texture (the mixing does wonders for that too, if done properly).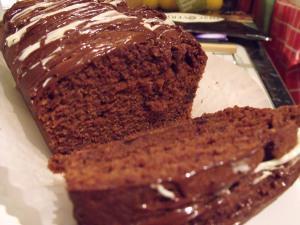 Sadly since this episode of distraction the dog has informed me – again no personification here (she's just very clever…) – that all cake made here must be able to be shared with all, thus chocolate is prohibited henceforth. A likely story.
Cr
*maturity optional, say it out loud if you're confused