My good friend Des, who came home from Qatar last last December
, is back in Manila for a few weeks. Last Wednesday, she dropped by Makati right after her flight from Boracay and met up with me. We exchanged some adventure stories over a quick meal at Pepper Lunch. I had my usual order of Beef Pepper Rice.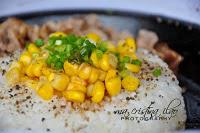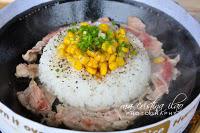 A nice treat from Des: Pepper Lunch's Beef Pepper Rice
I love how Pepper Lunch allows diners to "cook" their own food over a patented electromagnetic plate. I've always thought of it as the same pan (only classier and much bigger) locals use to cook sisig. I have read from their website that those plates are heated up to 260 degrees Celsius within one minute. Thus, it is better to mix the food right after it is served unless you want yours a little crispy, or well, burnt? :) I'm known for my big appetite, so their large serving is just enough for me. I think the only turn-off about this place is the food smell that sticks to your hair after being exposed to the smoky atmosphere. But overall, I think it is a great "fast steak" restaurant. 

Pepper Lunch
Power Plant Mall, Shangri-la Plaza Mall,
Alabang Town Center, Greenbelt 5, SM Mall of Asia
website: pepperlunch.com.ph
blog: pepperblogph.blogspot.com