Author George R.R. Martin said, "A reader lives a thousand lives before he dies.  The man who never reads lives only one."  While that is a powerful statement, did you know that only one in every five Central Florida adults reads at or below the fifth grade level?  This is exactly what the Adult Literacy League is trying to change.  This volunteer and donation based organization is attempting to change the world of those who have trouble reading "one page at a time."
On October 24, 2013, The Adult Literacy League held an event they called "Lawyers for Literacy Spelling Bee" at the Doubletree by Hilton in Downtown Orlando.  In this event was Cohen Battisti, Attorneys at Law's own Michael Grossman!  Not only did he do a fantastic job, but he was also very glad to be a part of such event.  I had the chance to interview Mr. Grossman about the spelling bee.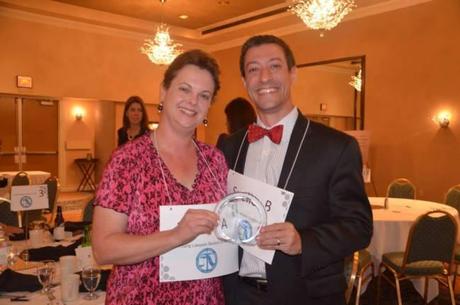 CB:  What do you think about the Adult Literacy League?
Michael Grossman: It's really an amazing program being run by amazing people.  Literacy is such an important skill, whether you're looking for work, reading labels on food at the grocery store, or trying to read a bedtime story to your child.  It's easy to take for granted how important and necessary reading is in our day-to-day lives.  For adults who are illiterate, whether because English is not their first language or they did not have the benefit of an early education, the Adult Literacy League is life-changing.  I have the highest degree of respect for their volunteers and staff, this is an extremely noble cause that has a profound impact on our communities.
CB: How did you feel about being a part of the event?
Michael Grossman:  It was an honor, but to be completely honest, also a little nerve-racking.  When the Young Lawyers Section of the Orlando Bar Association contacted me the day before the event due to a last-minute cancellation, I was happy to fill-in but really nervous.  After all, the other competitors had over a month to study the list of words to be used while I didn't even recognize about 10% of the words on the list!  Fortunately, the structure of the spelling bee meant I would not be alone, and was assigned a partner, Terri Spoon.  Terri was an amazing speller and instrumental in our success.
CB: Did you struggle at any point, and what was the hardest word they had you spell?
Michael Grossman:  The partnership between myself and Terri was really clutch.  She was a tremendous help for any words with which I was struggling.  I can't remember all the words they gave us, but a couple tough ones that come to mind are vicissitude, precocious, and peccadillo.
CB: What place did you come in?
Michael Grossman:  Winner, winner chicken dinner, we came in first place!
CB: Is this something that you would do again if you had the opportunity?
Michael Grossman:  Without question.  It was a fantastic event, Judge LeBlanc was an affable and charismatic MC, and everyone really had a great time helping a worthy cause.
It was great to have someone from Cohen Battiti, Attorneys at Law not only at the event, but to take first place in it!  Keep that in mind the next time you are in need of legal attention. 
At Cohen Battisti, initial consultations are always free and confidential.  We have a very experience group of attorneys and legal staff ready to assist you with your needs!  Call Cohen Battisti, Attorneys at Law today at 407-478-4878, or go to www.CohenBattisti.com.  Remember, at Cohen Battisti, "It's About Justice!"