Good News for all Indian publishers and website owners. Google has announced on May 18, 2015 that they are going to support Hindi as first Indic official language to monetize with AdSense. The most awaited approval has set to boost worlds third most popular language and express users though in their own language (Indian official correspondence language is still English though). Hindi language is spoken by more than 800 million people across world.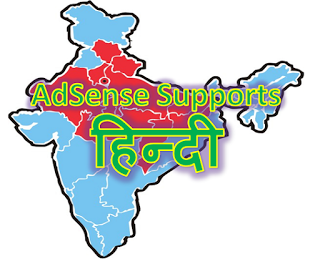 Primary Hindi speakers are concentrated in Uttar Pradesh, Haryana, Himachal Pradesh, Delhi, Bihar, Jharkhand, Madhya Pradesh, Chhattisgarh and Rajasthan.
The long wait has been ended finally. Creators who are proficient in hindi would feel jubilant to express their thought in their mother tongue.
If you are already a publisher you need to do nothing just create a new ad unit and place it on your site. Adsenes will start showing suitable ads on your hindi content.
If you have a website in hindi and do not have adsense account for monetize your site with Adsense then don't waist you time and apply for an AdSense account now.

What we would say rather than thanks giving to AdSense team and also expect they clear other Indic major language like Bengali, Tamil, Telugu to get official approval.