Below is a photo of Denis O'Hare from his role of Larry in American Horror Story.  But Denis is not the only True Blood star to be on the show.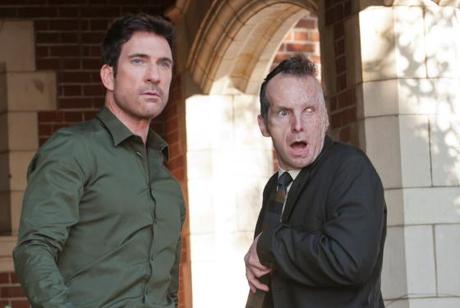 Adina Porter, Tara's mom from True Blood is also going to be on the show. She will play the part of Sally, a woman whose husband is divorcing her for being boring, and, accordingly, Ben Harmon, played by Dylan McDermott goes into a trance listening to her talk about football. He wakes up with blood all over his hands. Sexy Young Moira is sexily cleaning up some blood, maybe from somebody he killed. His tape recorder is missing, so we'll probably find out whom he offed later in the episode.
I can just imagine Adina Porter in the role and Denis looks really scary in that photo.
Read more by going to: nymag.com