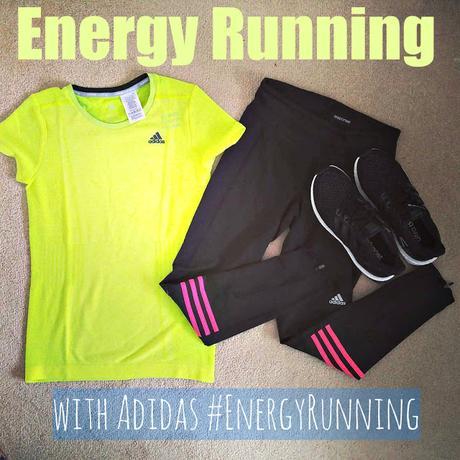 If you haven't been following my social media or reading my blog, firstly why the hell not(!), and secondly you'll have missed my crazy 2 month journey to running the Berlin marathon. I now officially have the running bug.
After my trip to Germany I was invited to go and spend an evening with the Adidas and fellow runners, to celebrate the diversity of running through their #EnergyRunning movement. I hadn't a clue what exactly was going on when we got there, but the fact we were all sent some running gear I figured we'd be doing something active - I couldn't wait!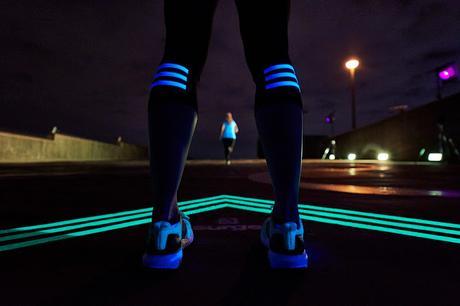 I arrived early because I didn't know the area very well, but I was soon greeted by friendly and familiar faces. We were all dressed in the same, kitted out in Adidas attire including the Adidas Ultra Boost which I fell in love with at the Berlin Marathon. This was very getting exciting!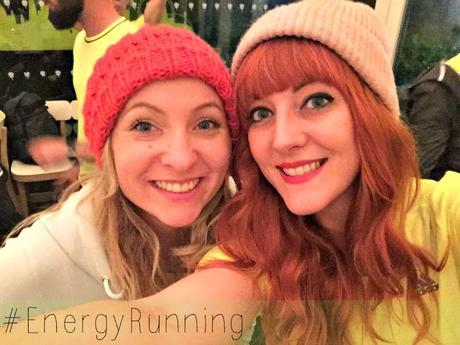 After catching up with my blogging buds Lucie, Susie and Sophie, and meeting new fellow fitness lovers, we split into teams and went for a 15 minute run. Now, as a lone ranger in the running world I hadn't a clue if I was going to keep up, to my surprise I was basically at the front! Turns out I'm a lot quicker than I give myself credit for, plus I discovered I loved running in a group. We didn't actually know where the devil we were running to, but we got to this huge car park and went up the stairs. South London, in the dark, in a car park?! What the hell was this about Adidas?!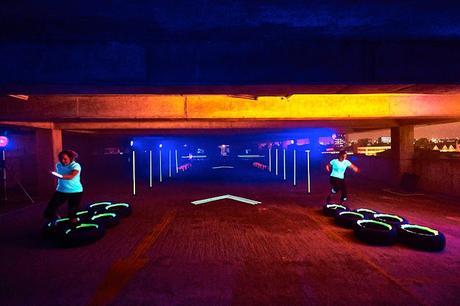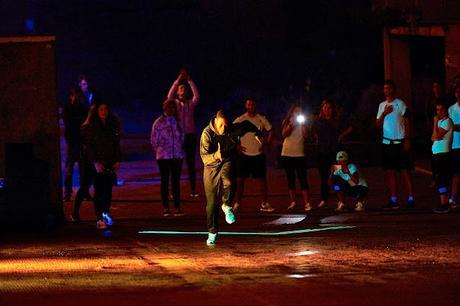 All was revealed very soon as we climbed up one of the ramps to discover this car park had been decked out in UV lights. We were in the dark but everything was glowing! Before us were 4 challenges we had to tackle; charge, circuit, surge and unplug. If you know me I'm little miss competitive so this was right up my street! 

·

  

Level One – CHARGE.

Footballer John Swift introduced us to a unique agility challenge all about fast footwork. We were challenged to get from one end of the venue to the other whilst avoiding roaming spotlights that, if we were tagged by, would send them back to the beginning of the level. We had 10 minutes to do as many as we could, but if the light hit you, you were out and the next member went. Muchos fun! 
·

  

Level Two – CIRCUIT.

At level two, we met sprinter Jodie Williams, and a UV lit energy obstacle course. This one tested us on their endurance and stamina, taking on a circuit of tires, hurdles and slalom poles as many times as possible in a ten minute time window. We split into two teams weaving in and out of cones, jumping hurdles and negotiating tires! It was so much fun, particularly sprinting to tag your next team mate. Unfortunately this is where my story ends. I had a previous calf injury I pulled whilst running the day before and I just felt it twinge and decided to pull out. I would of loved to carry on, but to be honest I have A LOT of races coming up and couldn't afford to risk it. I just sat and watched the rest of my group smash the rest. 
·

  

Level Three – SURGE.

On the third floor, my team met sprinter Ojie Edoburun, who led them through Surge, an uphill 40m sprint challenge. Each runner's pace was put to the test in a challenge that tested their speed, technique and power.
·

  

Level Four – UNPLUG.

Personal trainers from London fitness collective 1Rebel were with each of the teams throughout and on the final level of the event they led a warm down session to finish the running experience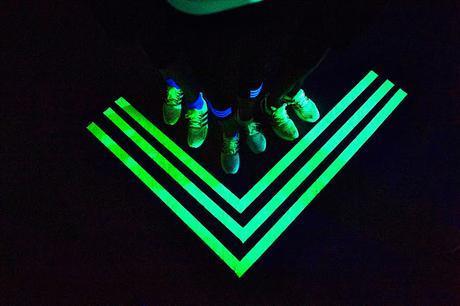 Barry Moore, adidas UK Brand Director, said:
"The Energy Running movement is challenging what people think and we're seeing individuals and groups going out and creating on the streets, paths and trails. At adidas we are leading on this movement and the event in Peckham was about giving a platform for runners to have a fun, energetic and different experience in the heart of London."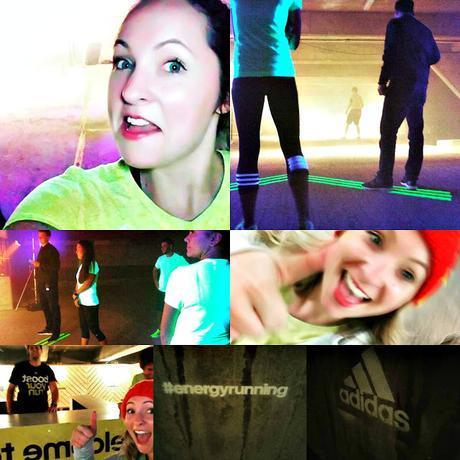 Obviously I didn't get to do the last two tasks and have one of the epic roof top snaps like the others did, but what I did experience was awesome - to be honest I was gutted I didn't carry on, but resting now will most certainly be better in the long run. 
So what is Energy Running all about? How I see it is that sometimes you have to give things a go, you can diversify things with a trail run, an obstacle course or maybe even running in a group. Exercising can get really boring if you do the same thing all the time and can become a chore, don't let it - shake it up and have fun with it! The Adidas team don't bite so send them a tweet @AdidasUK for some tips and guidance about what you can do to join the #EnergyRunning movement! Obviously tweet me if you want my help as well @missanniebean
The event has definitely got the clogs turning on what else I can do to keep my running sessions exciting... although not sure how my local council would feel about me throwing a UV running party in a car park... but you never know! 
Big thanks to Adidas #EnergyRunning