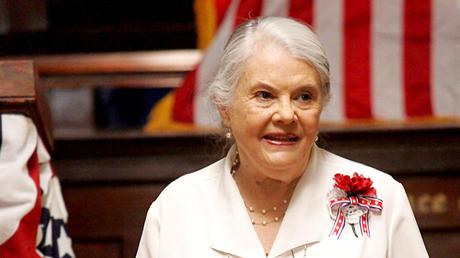 Writer Nicole Rogers of the website Square 77 recently wrote an article on the portrayal of grandmothers on television and how most these days are breaking the stereotypical mold. Amongst those TV grandmothers mentioned was True Blood's Adele Stackhouse (Lois Smith) who we last saw rise from her grave at the end of season 4 to help Sookie (Anna Paquin). Rogers says that Gram may be the most traditional TV grandmother but she has some modern ideas:
"Perhaps the most traditional grandma of recent times was Sookie's Gram Adele  on HBO's "True Blood." Until she met her sad and sudden end, she was the apron-wearing, pie-baking Southern lady who looked after Sookie (Anna Paquin) and her brother, Jason (Ryan Kwanten). But she had contemporary ideas, like getting to know the vampires individually instead of writing them off as a murderous bunch. She may have looked like a typical grandma, but she was far from it."
What do you think of this assessment? Is Adele Stackhouse a traditional grandmother or is she slightly more edgy? Tell me in the comments below!
Source: Square 77- "It's Show Time: TV Grandmas turn the rocking, knitting stereotype on its ear."
Image Credit: HBO, Inc.