A couple years ago I did a series of abstract paintings with the same compositional direction, and when I do that, I find that not all in the group turn out equally interesting.  I try to make each one work on its own terms, but sometimes looking back, I find myself disappointed.
While working on Canvas #125 recently, I realized that I could use one of the techniques from that painting to improve an older one. Here's what Splash Three originally looked like: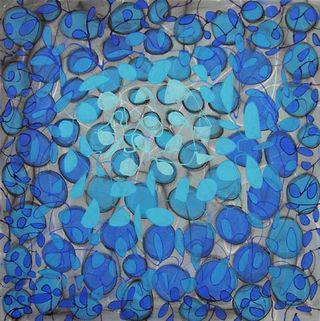 Original Splash Three, 30" x 30" acrylic on canvas.
Using prussian blue, cobalt green, turquoise, and light blue, I drew small circles throughout the canvas, beginning with the darker colors near the edges and the lightest in the top center focal point.  I filled in the circles with a small brush as I went.  I also added variation by putting some of the darker circles closer to the focal point.  Here's the final result.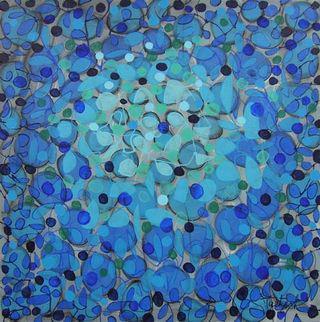 Splash Three, 30" x 30" acrylic on canvas.