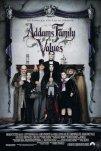 The sequel to the 1991 film sees the Addams return for more crazy fun, as Uncle Fester gets married to Debbie who just happens to be the black widow a gold-digger who kills her new husbands on their wedding night.
⭐️⭐️⭐️⭐️
Pubert is the new addition to the Addams Family and something Wednesday and Pugsley do not take well to, coming up with different ways to attempt to kill the baby. Which is obviously very messed up but Pubert can more than handle himself and this does create some rather amusing moments.
Debbie is introduced applying to become the new nanny for the family, after finding out that Fester is a bachelor and with a huge fortune. She targets these men to steal the money all for herself. Something the family fail to see, although the children who are sent off to summer camp (yes really) do have suspicions. Especially when it was Debbie who suggested the camp. Those scenes really are hilarious with Peter MacNicol and Christine Baranski coming in as Gary and Becky the over the top camp leaders.
This is a great character addition to the already good line up really adding in that extra little factor really. Joan Cusack absolutely nails the role (as always) and is a joy to watch as the devious killer! Especially when her attempts at killing Fester just do not work at all. He seems to be indestructible which makes it actually funny rather than sinister.
I personally think this film is better than the first with the addition of the new characters creating more of a story throughout the whole film. Still containing many one liners and moments takes it to a higher level for me. The familiarity with the characters probably does help as well. Obviously though Wednesday remains my favourite and is given even more to work with this in this film, showing just how good of a child actor Christina Ricci really was!
This is the type of film that you have to just enjoy and not take too seriously at all. If you take it too serious then you won't like anything about it. Its not real, put it on a similar level to the superhero films in terms of being in its own universe and not part of the real actual world. Which I guess is when people stop enjoying the creepy, kooky and spooky family. I still do and I am not afraid to admit and shout about just that!