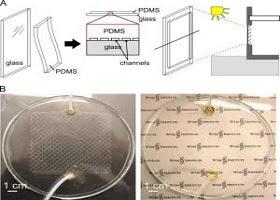 Green Living Research
:
This new research is turning to nature to find a way to make windows more energy efficient. It proposes a transparent, bio-inspired, convective cooling layer for building windows and solar panels that could help reduce heating by solar absorption. 
The research published in
Solar Energy Materials & Solar Cells
, by
University of Toronto
Engineering professor Ben Hatton (MSE) and his colleagues at
Harvard University
explain how to cut down on heat loss during the winter while keeping buildings cool during the summer. As we know, windows are the most energy inefficient part of buildings--and heating by thermal radiation reduces the efficiency of photovoltaic panels.
Professor Ben Hatton explains the research: "Our results show that an artificial vascular network within a transparent layer, composed of channels on the micrometer to millimeter scale, and extending over the surface of a window, offers an additional and novel cooling mechanism for building windows and a new thermal control tool for building design," (
reference
)
Read article HERE -- Image
source
ENJOYED THIS POST? Subscribe and Like Us on Facebook or Google Plus! No Spam! Subscribe via Email