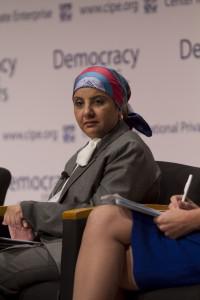 Assilah Z. Al-Harthy, the first woman to found and head a private equity firm in Oman, speaking on the second day CIPE's Democracy that Delivers for Women Conference last week. (Photo: CIPE)
Though I am a woman, I have never focused in depth on women's issues. Perhaps it was a counter-feminist within me that thought, "If we talk about women's issues we're perpetuating a difference between men and women. Or maybe it's just that as a researcher on the Middle East, I steered clear of the ubiquitous discourse on the "Arab woman." But a few recent events and stories have begun to chip away at this shell and spark in me a genuine interest in women's political and economic empowerment.
The first was my participation in CIPE's conference Democracy that Delivers for Women. In case you missed it, Stephanie Foster has a nice recap at the Huffington Post. Over the course of two days, women from across sectors and different countries spoke about education, entrepreneurship, technology, and more – and their relationship to women's empowerment. But I'm not one for long, drawn out, up-in-the-clouds debates. So I was happy to hear examples of programs that have made it easier for women to start and maintain their own businesses, and to learn how financial independence has translated into political empowerment and support for democracy.
Soon after that, I was performing some background research on women and entrepreneurship, ahead of the Business Women Forum's annual conference in the West Bank at which CIPE's Chair Karen Kerrigan, Regional Director Abdulwahab Alkebsi, and Program Officer Amy Thornberry are presenting and facilitating discussions.
A quick internet search on women and business in Palestine returned this World Bank statistic: in the West Bank and Gaza women with a college degree or above account for 82 percent of unemployed women, compared to only 12 percent for men.
Why is that? What factors inhibit women working in Palestine, and how can these hurdles be removed? I'm sure this will be a central point of discussion at the conference.
Next, I read an article that describes how, while facing greater obstacles to doing business in the Middle East, women are slowly knocking down barriers to finance. The story gives excellent examples of how regulations and cultural characteristics have restricted women's entry into the workforce. For instance, a woman entrepreneur in Saudi Arabia is likely to have difficulty registering her business because one cannot legally run a business from a home address. But as the article relates, more women becoming proactive: building their own investment vehicles, establishing their own financial firms, and creating outlets for their entrepreneurial spirit.
So women face all the same barriers to doing business as men, but these barriers disproportionally affect women because they are compounded by social and cultural norms, and in many cases unique legal environments.
I'm sliding, a bit reluctantly, down the path of women's issues, and I'm actually eager to learn more about the unique circumstances that create disincentives for women to become entrepreneurs and work in the private sector, and how women and men are blazing paths to equal economic and political empowerment.