This post may contain affiliate links. Please read my disclosure.
Creamy Acorn Squash Bisque gets a healthy makeover with nonfat Greek yogurt. Paired with pomegranate and cranberries this soup is full of delicious flavors.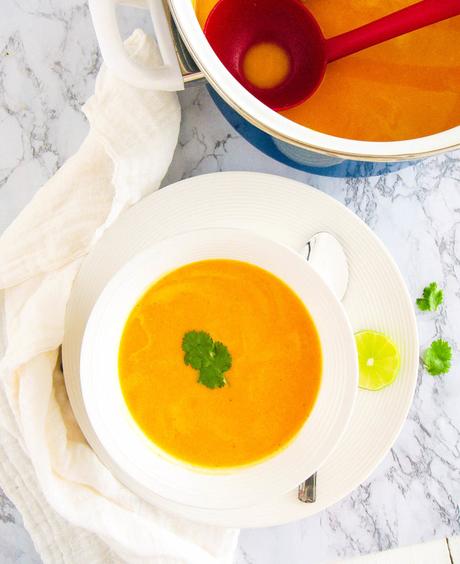 Seasonal Squash Soups are one of my favorite things about fall and winter, and this soup is no exception. The smooth texture of acorn squash gives this recipe a nice creaminess, and substituting Greek Yogurt for cream / butter provides decadence without the added fat and calories.
Nonfat Greek Yogurt is one of my favorite healthy substitutions - because you can use it for virtually any creamy substance. I've used it instead of sour cream (like in these tacos), instead of cream in soup, instead of mayo in salads, and instead of butter/milk/cream/oil in baked goods!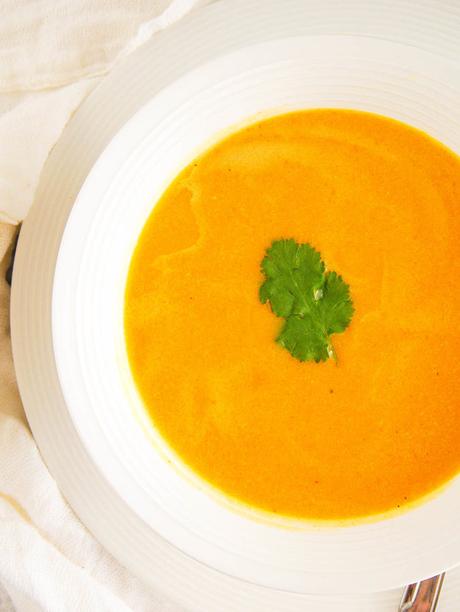 Tools and Equipment You'll Need for This Recipe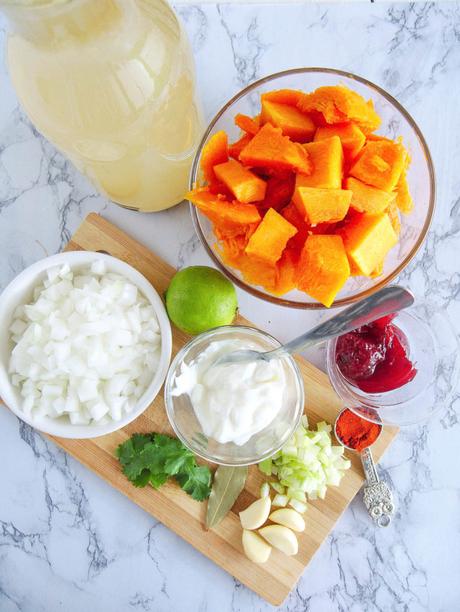 How to Make Acorn Squash Bisque - Step by Step
Step 1: In a stockpot, cook the onion, bay leaf, garlic and celery in some olive oil until garlic releases aroma.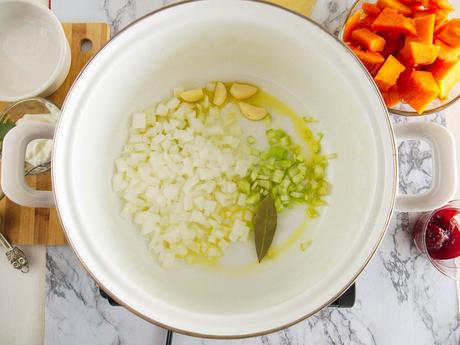 Step 2: Add the chopped acorn squash and then the veggie stock and simmer.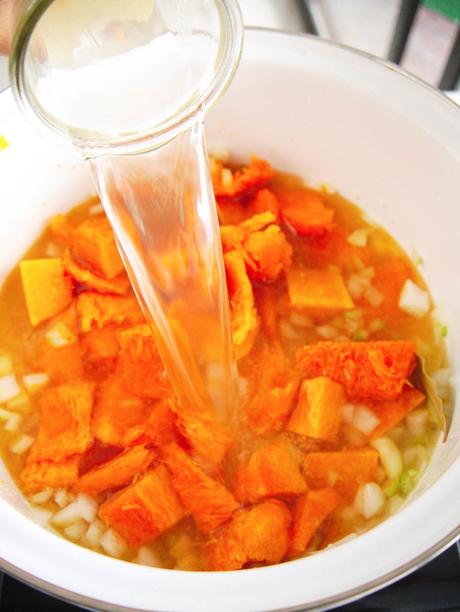 Step 3: When the acorn squash is cooked, swirl in the plain Greek nonfat yogurt and remove from the heat. Add the paprika to the soup.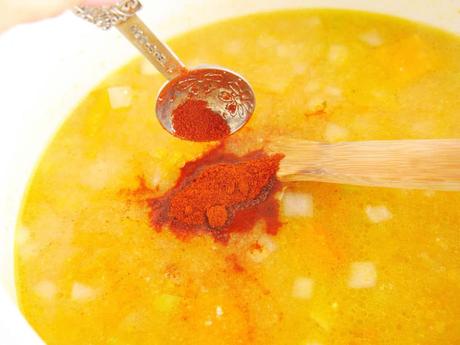 Step 4: When the squash is cooked thoroughly, purée the soup and pass through a sieve so it is smooth.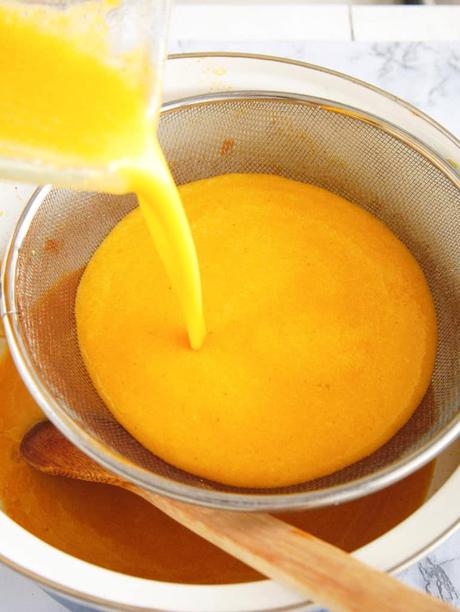 Step 5: Stir in the cranberry jelly.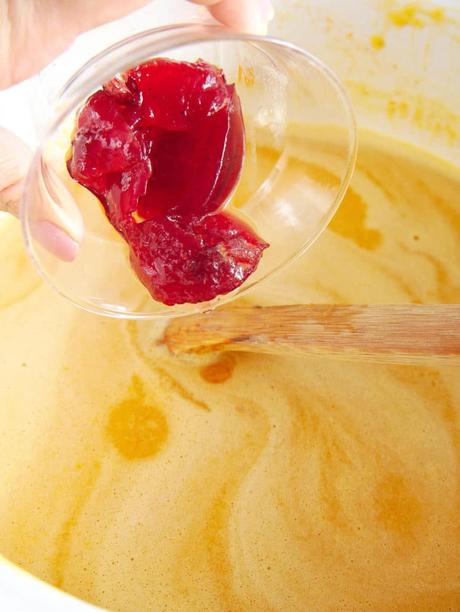 Step 6: Garnish with the cilantro, pomegranate seeds, a squirt of lime and add a dollop of plain Greek nonfat yogurt on top.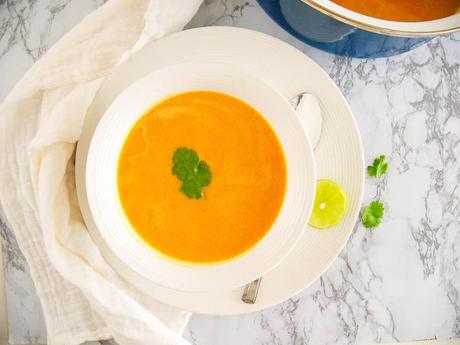 What makes Acorn Squash Bisque healthy?
Low in Fat and Calories: One serving of this bisque has less than 100 calories and, thanks to the nonfat Greek yogurt, it has 1 gram of fat.
High in Vitamins and Nutrients: Acorn squash is high in many vitamins and nutrients such as fiber, vitamin C, potassium, and magnesium. It's also high in antioxidants.
Good Source of Fiber: Acorn squash is a good source of fiber. This soup has 2 grams of fiber per serving.
Added Protein: Greek yogurt is higher in protein than regular yogurt or cream. Thanks to the addition of Greek yogurt in this recipe each serving contains almost 6 grams of protein.
Will kids enjoy this Acorn Squash Bisque?
This soup is smooth and creamy making it a kid friendly soup. If your kids are not fans of pomegranate simply leave the garnish off their plate. Stir in additional Greek yogurt into their soup for added protein. They won't even know there are hidden veggies in this soup!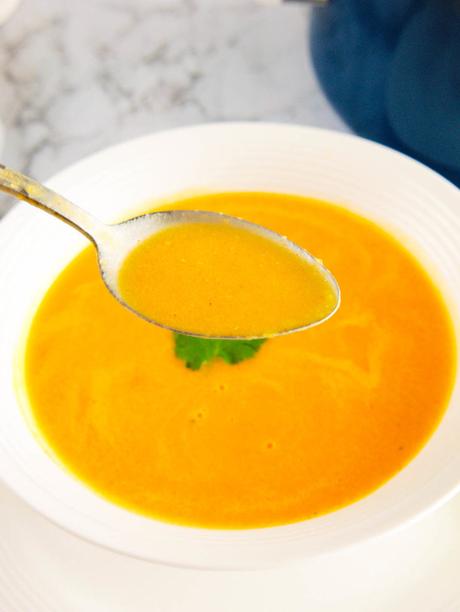 How can you cook with Greek yogurt?
Swap out the dollop of regular sour cream on your mashed potatoes with Greek nonfat yogurt for a nutritious and creamy-thick taste.
Greek nonfat yogurt is a great addition to any casserole; the nonfat greek yogurt provides calcium that acts as a binder.
Greek nonfat yogurt can be used in dips and dressings as a substitute for regular mayonnaise or sour cream to provide a nutritious twist to your recipe
Use Greek nonfat yogurt in marinades - it's a great tenderizer!
Whether you're making a spiced apple cake, or a creamy cheese cake, Greek nonfat yogurt is a great substitution for some dessert staple ingredients such as oil, butter, cream cheese or ricotta cheese.
If incorporating yogurt when cooking, avoid using aluminum products - the acidity of yogurt can react negatively with aluminum.
What is the difference between acorn squash and butternut squash?
An acorn squash is smaller and rounder than a butternut squash. It has a dark green skin, a yellow flesh, and resembles the shape of a large acorn. The taste of acorn squash is mild. It's a wonderful squash to use as it takes on the other flavors and seasonings you use in your dish.
A butternut squash is larger than an acorn squash. It has a light brown skin, and bright orange flesh. It has a long neck with a wider base. It has a sweet flavor and pairs well in savory dishes.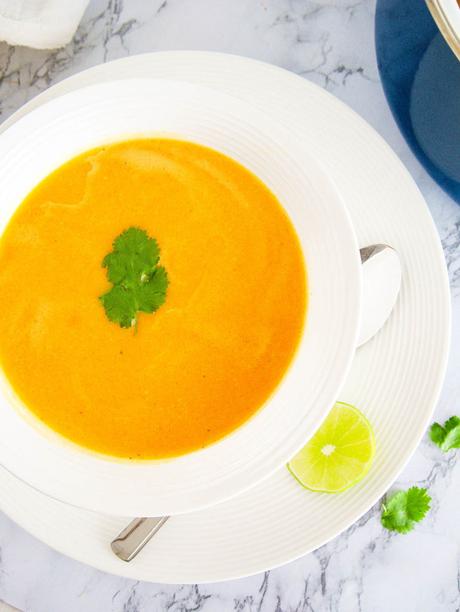 What do you serve with Acorn Squash Bisque?
This is a delicious bisque to have alongside a main meal or as an appetizer. It would be the perfect addition to your holiday table.
Here are some ideas to serve in addition to this bisque with your meal...
Whole wheat parmesan bread
Cranberry and Pomegranate Salad
Roasted Vegetables
Rice Pilaf
Stuffed Squash
Top Tips for Making Acorn Squash Bisque
Chop and peel the skin from the squash before adding it to the soup. You cannot eat the skin of an acorn squash. It is too tough.
Pre-cook the squash before adding it to the soup to save stovetop cooking time. Cut the squash in half, brush with oil, and place face down on a sheet pan lined with aluminum foil. Cook for 15-20 minutes at 400 F.
For an extra creamy soup use a sieve to extract extra pulp.
If you want to add some extra protein, add 1 15oz can of cannelini beans to the soup at the same time you add the squash - and then follow the rest of the directions in the recipe.
Similarly, if you want some more greens in your diet, add 1 6oz box of baby spinach (chopped) to the pot when you add the squash (follow the rest of the directions in the recipe).
Check-Out these other Squash Soup Recipes!
If you have tried this Acorn Squash Bisque, or any other recipe on my blog, then please rate it and let me know how it turned out in the comments below! You can also FOLLOW ME on FACEBOOK, TWITTER, INSTAGRAM and PINTEREST to see more delicious, healthy, family friendly food!
Acorn Squash Bisque