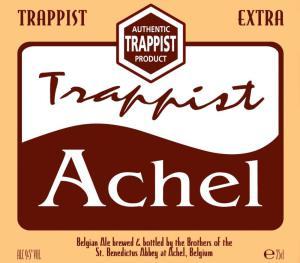 (Label from volcanicbottleshoppe.com)
Achel has only been brewing beer since 2001, making them one of the newest breweries in the Trappist community.  They basically make 6 beers: a low, medium, and high alcohol versions of a brown and blond ale.  The Extra Brune is their high alcohol dark ale that would qualify in the "quadruple" style range.  They do an Extra Blonde, but it's only available at the Abbey. Achel Extra Brune is sometimes a little hard to find as they're newer and don't have the broad reputation that the other Trappists have built up over the years.  This being said, the Extra Brune is starting to garner a lot of recognition for its quality with people who love Belgian Strong Dark Ales
Appearance: Hazy, mahogany with red notes.  Tan head with great retention.
Aroma: Cocoa powder, figs, dates, toffee. It has a very rich aroma.
Taste: Rich chocolate, rum, spicy/phenolic, cinnamon hints.  Full bodied with a touch of alcoholic warmth.  Supremely balanced.
Overall Impression: This is an exceptional beer.  For the high level of malt/brewing sugar/alcohol, Achel Extra Brune is very well balanced.  I drank the entire 750ml bottle over the period of an evening and it never got cloying or felt heavy on the palate.  As with most rich, dark beers, it got better as it warmed up from "fridge" temp revealing its character and spice.  I recommend this beer highly if you're into Trappist beers or Belgian Strong ales.
Availability: It may be hard to find this, but ask your local bottle shop if they carry beers from Shelton Brothers Importers.  If they carry other beers, they may be able to bring in the Achel.
9.5% ABV