Tangy pickled grapes -an instant recipe
Pickles are an important condiment of Asian food. In India we love to make different varieties of pickles, most of them are oil based.Now good quality of ready made pickles are easily available but still many prefer to make their own pickles. Pickling is an art ,you need experience and passion to make it as it require time and accuracy of proportion of ingredients to make perfect pickles other wise you can ruin the whole thing.
In India oil based pickles are preferred over water based pickles as they last longer. we Indians make a yearly stock of pickles but seasonal fresh pickles are also made and enjoyed during that season. Now the ready made pickle masala have made pickling very easy,just add  some pickle masala and oil in vegetables and a perfect jar of pickle is ready in few minutes even a novice can do it now.
I love to make different types of pickles which I learned from my Mother and grand mother who are experts in making pickles.My favorite are Masala lemon pickle, Punjabi mango pickle,the healthy Methi dana pickle and  all time favorite of my family Stuffed green chili pickle 
last year I tried this Orange pickle which was a hit in my family .few days back I brought a big box of seed less grapes and thought of trying some thing interesting rather then just adding them in salad .It taste so wonderful and we all loved it. Sharing this easy and quick recipe with you all,hope you all will also make and like this grape pickle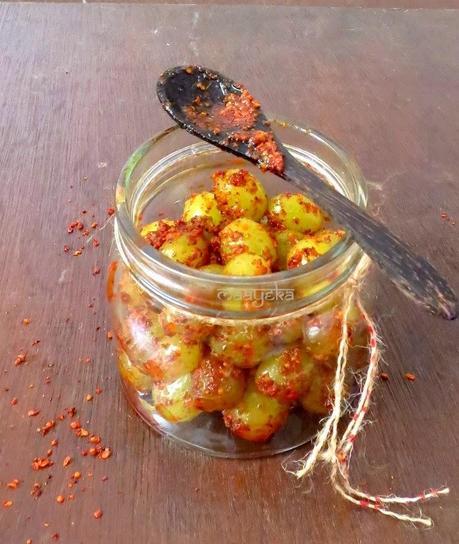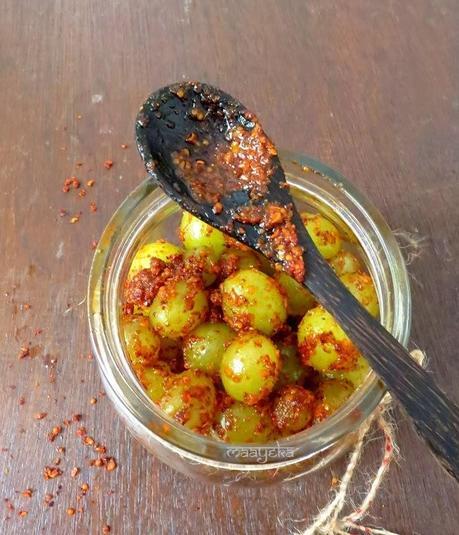 Prep time-10 min
Cuisine-Indian
Difficulty level -easy
Type -pickle,side
INGREDIENTS-
Seedless green grapes - 250 gms

Readymade pickle masala - 2.5 tsp

Red chili powder - 3/4 tsp

Black salt /kala namak - 1/4 tsp

Salt  -to taste *

Lemon juice - 1.5 tsp

Sugar - 1/2 tsp

Cooking oil - 4 tsp
PROCEDURE-
Wash grapes and wipe them well.

Take a big bowl and put grapes in it.

Add all the spices and oil and mix well

Keep covered for 1 hour and then fill it in a glass jar.

Stays well for 3 days at room temperature in summers.

then keep refrigerated for a week.

Enjoy as a side dish with roti or rice or serve as salad
NOTE-
* Add salt carefully as we are also adding black salt and the ready made pickle masala also have salt in it.