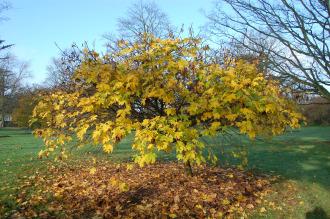 Acer platanoides 'Globosum' (30/11/14, Kew Gardens, London)
Position: Full sun to light shade
Flowering period: Early spring
Soil: Moist, well drained
Eventual Height: 7m
Eventual Spread: 6m
Hardiness: 4a, 4b, 5a, 5b, 6a, 6b, 7a, 7b, 8a, 8b, 9a
Family: Sapindaceae
Acer platanoides 'Globosum' is a deciduous tree with a compact habit and rounded crown. Its dark green leaves are opposite, palmate with 5 lobes, up to 14cm long and 20cm broad. Its leaves turn yellow/ orange in autumn before its leaves fall. Its bark is grey/ brown. Its yellow/ green monoecious flowers are small and appear in upright corymbs before the leaves appear on the tree. Its green fruit is a double sumara and up to 15cm across.
The species Acer platanoides, commonly known as Norway Maple, is native to eastern and southern Europe and western Asia.
The etymological root of the binomial name Acer is derived from the Latin meaning 'sharp' in reference to the classical roman use of the genus to make spears. Platanoides is in reference to its resemblance to the Platanus genus. Globosum is derived from the Latin globosus meaning 'spherical'.
The landscape architect may find Acer platanoides 'Globosum' useful as a compact tree with a dense crown. Once established this tree is drought tolerant. This tree is tolerant of urban pollution.
Ecologically, Acer platanoides 'Globosum' is attractive to pollinating insects. Its leaves also provide a source of food for butterfly and moth larvae.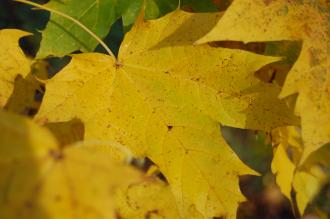 Acer platanoides 'Globosum' Autumn Leaf (30/11/14, Kew Gardens, London)
Acer platanoides 'Globosum' prefers moist, well-drained soils. It tolerates most pH of soil. It is tolerant of compacted soil conditions.
Acer platanoides 'Globosum' requires little maintenance. Necessary pruning should be carried out during the dormant winter period.