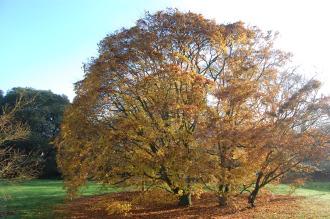 Acer palmatum Autumn (30/11/2014, Kew Gardens, London)
Position: Full sun to dappled shade
Flowering period: Early spring
Soil: Moist, well drained
Eventual Height: 10m
Eventual Spread: 10m
Hardiness: 5b, 6a, 6b, 7a, 7b, 8a, 8b, 9a
Family: Sapindaceae
Acer palmatum is a slow growing variable deciduous small tree or large shrub with a dome shaped habit. Its mid green leaves are palmate with up to 9 acutely pointed lobes with serrate margins, up to 12cm long and 12cm across. Its leaves turn yellow/ red in autumn before falling. Its bark is grey/ brown and smooth. Its small red flowers are small cymes with five purple sepals. Its fruit is a pair of winged samaras, each being up to 3cm long and ripening in autumn. Its root system is relatively compact for a plant of this size.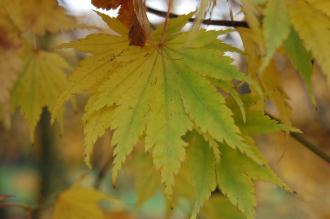 Acer palmatum Autumn Leaf (30/11/2014, Kew Gardens, London)
The species Acer palmatum, commonly known as Japanese Maple or Smooth Japanese Maple, is native to Japan, Korea, China and south east Russia. In its native habitat it grows as an understory plant in woodlands. It was introduced into the UK in 1820.
The etymology of the binomial name Acer is derived from the classical Latin name for the Maple. Palmatum is from the Latin meaning 'palm like', in reference to the leaves.
The landscape architect may find Acer palmatum useful as a small specimen tree, particularly in a sheltered position with light shade.
Ecologically, Acer  palmatum seeds provide food for some mammals and its branch structure provides shelter for birds and mammals.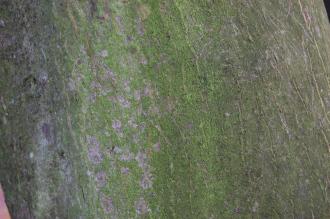 Acer palmatum Autumn Bark (30/11/2014, Kew Gardens, London)
Acer palmatum prefers moist, humus rich, well-drained soils. It tolerates most pH of soil, although it prefers neutral to acid soil. It will not tolerate dry soils.
Acer palmatum requires little maintenance. Necessary pruning should be carried out during its dormant season.