Premier Athletes Golf to Raise Funds for Charity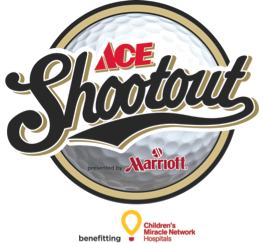 AUG. 9, 2013
 (SALT LAKE CITY) — Children's Miracle Network Hospitals®, a charity that
 raises funds for 170 children's hospitals in North America, will once again benefit from the Ace Hardware Celebrity Golf Shootout.
Set to air on the Golf Channel on Aug.12 at 8 p.m., Aug. 21 at 2 p.m. and Aug. 29 at 1 a.m. Eastern, the 16th Annual Ace Hardware Celebrity Golf Shootout will feature some of the biggest names in professional sports in an event known for stunning golf shots. Paired in teams according to sport, the athletes will compete in a series of golf challenges to raise more than $1 million for Children's Miracle Network Hospitals.
This year, attendees will also vote to nominate a celebrity fan favorite, who will win $50,000 for the Children's Miracle Network Hospital he chooses. In the process, competing teams will determine which sport makes for the best golfer, leading to a dramatic finish.
"The Ace Shootout gives athletes the chance to engage in some playful competition while raising money for kids who need it," said NFL Hall of Famer Steve Young, who hosts the event along with World Series Champion Kevin Millar. "It's great to see sports legends step outside of their athletic expertise for a good cause."
The 2013 participants for the Ace Celebrity Golf Shootout are eight sports stars — World Series Champions David Wells and Gary Sheffield, Super Bowl Champions Richard Dent and Otis Wilson, NBA All-Stars BJ Armstrong and Otis Birdsong and Olympic Gold Medalists Mark Spitz and Chad Hedrick. The charity golf event will also feature professional golfer Jamie Sadlowski, a two-time RE/MAX Long Drive Champion.
Held at the Ritz-Carlton Kapalua Golf Resort in Maui, Hawaii, the event will spotlight 10-year-old Cody Sugai as the 2013 Honorary Miracle Caddie. Cody was treated at Kapi'olani Medical Center, a Children's Miracle Network Hospital, for extreme pressure and bleeding in his brain. After undergoing treatment including Gamma Knife radiation, Cody is regaining his strength and enjoys participating in school musicals and playing basketball and volleyball.
About Children's Miracle Network Hospitals
Children's Miracle Network Hospitals® raises funds and awareness for 170 member hospitals that provide 32 million treatments each year to kids across the U.S. and Canada. Donations stay local to fund critical treatments and healthcare services, pediatric medical equipment and charitable care. Since 1983, Children's Miracle Network Hospitals has raised more than $4.7 billion, most of it $1 at a time through the charity's Miracle Balloon icon. Its various fundraising partners and programs support the nonprofit's mission to save and improve the lives of as many children as possible. Learn why your local children's hospital needs community support at CMNHospitals.org and facebook.com/CMNHospitals.
About the Ace Hardware Foundation
As the official charitable division of Ace Hardware Corporation, the Ace Hardware Foundation helps enhance the vision of being the "Helpful Place" in local communities across the country and around the globe through charitable giving. The Ace Foundation provides support and philanthropic opportunities to its consumers, retail store owners, vendors and team members to give back to local communities through fundraising efforts for Children's Miracle Network Hospitals and American Red Cross Disaster Relief.
About Ace Hardware
For more than 85 years, Ace Hardware has been known as the helpful hardware store in thousands of communities across America. Customers depend on Ace to help them take care of their homes quickly and easily so they can get on with their lives. In 2012, Ace ranked "Highest in Customer Satisfaction among Home Improvement Stores for the Sixth Consecutive Year," according to J.D. Power and Associates. With over 4,600 hardware stores locally owned and operated across the globe, Ace is the largest hardware cooperative in the industry. Headquartered in Oak Brook, Ill., Ace and its subsidiaries currently operate 14 distribution centers in the U.S and also have distribution capabilities in Shanghai, China; Panama City, Panama; and Dubai, United Arab Emirates. Its retailers' stores are located in all 50 states, the District of Columbia and approximately 60 countries. For more information on Ace, visit acehardware.com.