The Taynuilt Hotel By Oban is easily reached by car and train so ideal for an overnight getaway or a base for exploring the local area. The historic Bonawe iron furnace is only a mile from the hotel.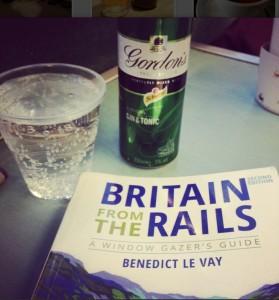 We took the railway up and enjoyed the scenery whilst having a pre-dinner drink and read of a Bradt travel guide which covers the Glasgow to Oban line. The train takes a leisurely 2 hours 45 minutes to Taynuilt from Glasgow but you can drive it in just under 2.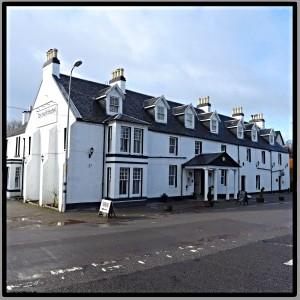 Outside Hotel
A traditional looking coaching inn from the outside…

Visit Scotland Accreditation
with recent hospitality accreditation on the walls.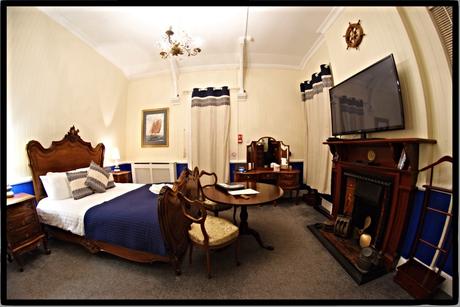 Suite
Our room for the night was the Loch Etive suite with a huge solid bed and massive TV with a selection of recent releases on DVDs for a cosy night in. There was also an Ipod stand, hairdryer and we even had a terraced seating area outside but sadly it wasn't the weather for getting any use out of it.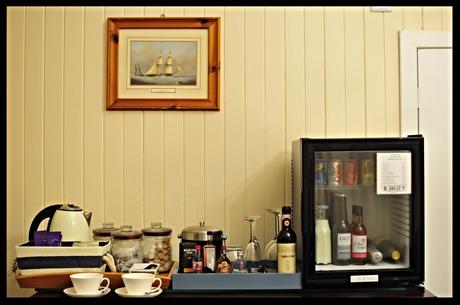 Refreshments
This was a change from the usual little hospitality tray. Tea, coffee, biscuits, ice (nice touch!) and fresh milk. The mini-bar had beer brewed for the hotel, wine, champagne and spirit miniatures (Caoronn gin, Appletons rum, Paris Rose Vodka etc) – all at reasonable prices for a hotel.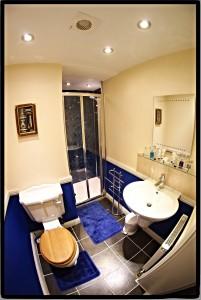 Toilet and shower
Modern and clean toilet/shower.  It would have been nice to have a bath after the rail journey, however that's my own preference. Molton Brown toiletries were supplied.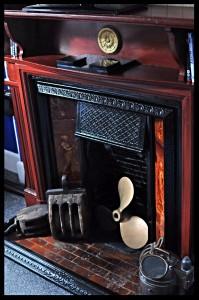 Room fireplace
The room is rich in detail, with this old fireplace and articles of nautical ephemera…so there's a definite seafaring theme going on but Taynuilt isn't what you'd call a port or harbor but there is a pier on a sea loch just over a mile away.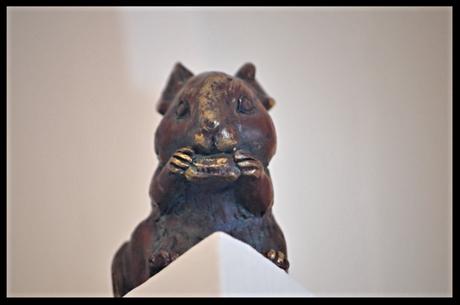 Room detail
…and these little mice perched on the coving – 1 in each corner of the room.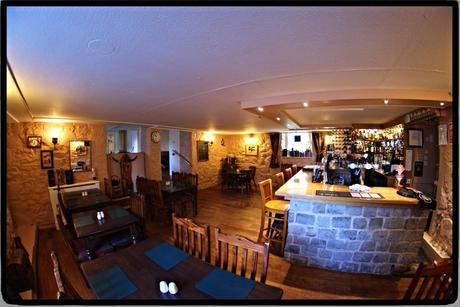 Restaurant/Bar
The restaurant/bar is welcoming and cosy. The decor is modern with just the right amount of nods to traditional Scottish hotels – not overloaded with sentimental kitsch Scottishness. If you just want to drink then there's a proper boozer on the other side, which also has a stove fire.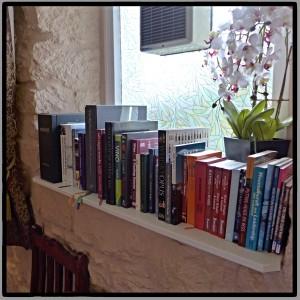 Not short of reading material!
We found quite a few interesting food, drink and travel books on the shelves.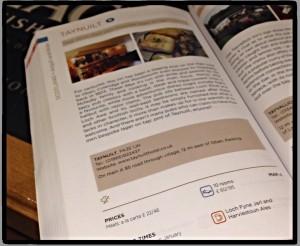 Listing in the Michelin pub guide
Including the most recent edition of the Michelin eating out in pubs guide, which has an entry for the Taynuilt hotel!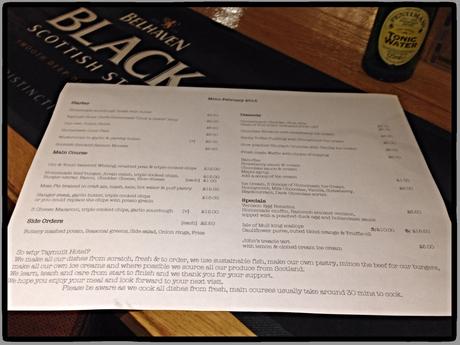 Menu
We settled down with a drink, from their vast gin, beer and whisky selection and checked out the menu. With local and seasonal produce used, the menu changes daily.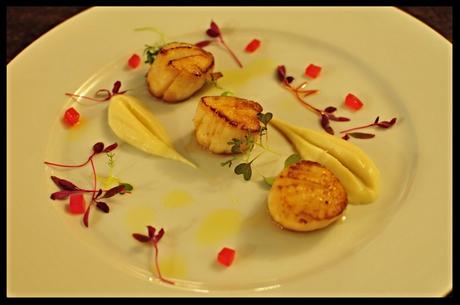 You can order the scallops as a starter or main, we had them to start and they looked great; there was a strong whiff of truffle oil as they arrived on the table. The scallops were perfect and the combination with blood orange tasted great.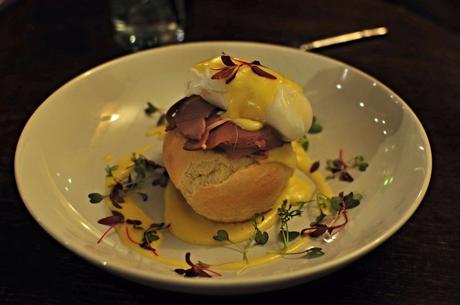 Venison Egg Benedict
We love eggs Benedict so imagine our delight when we saw a venison variation on the menu. Creamy hollandaise, home-made muffin and sliced venison which wasn't too gamey or filling. This was lovely.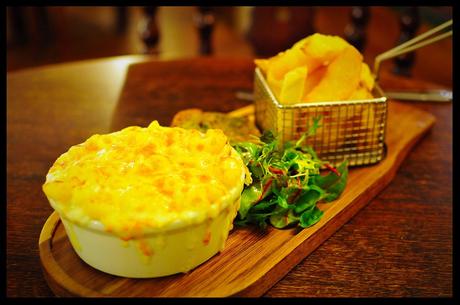 Macaroni cheese
A huge bowl of stringy cheesy pasta – this macaroni came with delicious home-made garlic toasts (obscured in picture) and yet more carbs courtesy of the big chunky chips. The portion was so big we had to leave some!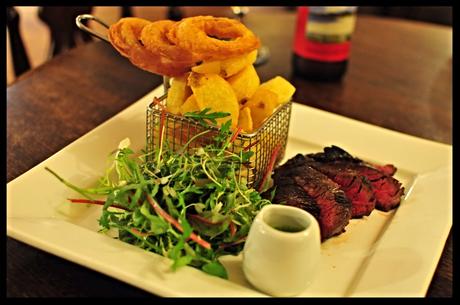 Hanger steak
Another huge portion. The hanger steak was rare (as requested) but was a wee bit chewy though perhaps that's my own ignorance over this cut, I certainly can't complain having such a steak cooked to my liking for £18 – it ranks as our best steak of the year so far. It came with garlic butter, onion rings and the chips were like good roasties.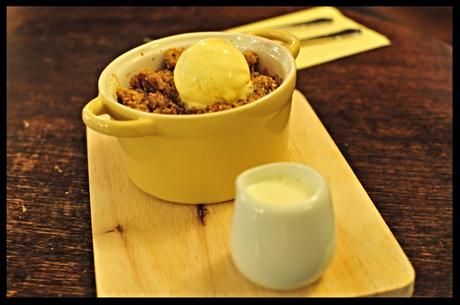 Rhubarb crumble
Dreamy warm & wintery rhubarb crumble. We struggled to finish this after the amount of food we'd already consumed!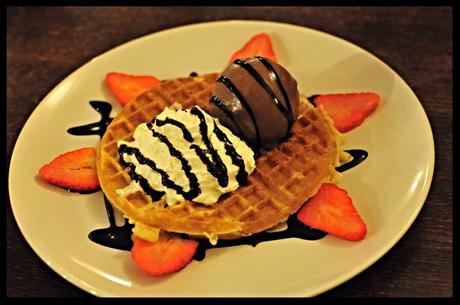 Waffle
One for the kids? It had been a while since we'd had a waffle and the availability of "chocolate sorbet" on the menu sealed the deal. I'm not sure what made it a chocolate sorbet rather than an ice-cream but it was very chocolately. And you can't really go wrong with chocolate, cream and a waffle.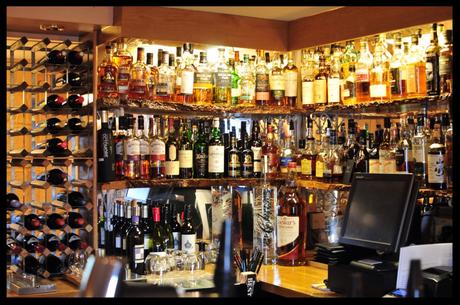 Bar in Restaurant
The wee bar has a pretty big selection including some unusual whiskeys such as an Octomore (the most heavily peated whiskies in the world).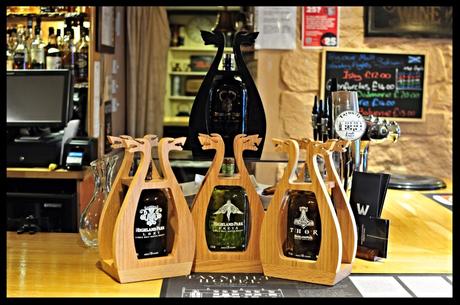 Excellent Whisky selection
And these limited editions arrived during our stay – the complete Valhalla whisky collection from Highland Park (Odin, Freya, Thor & Loki). Not too many places can say they have the complete set!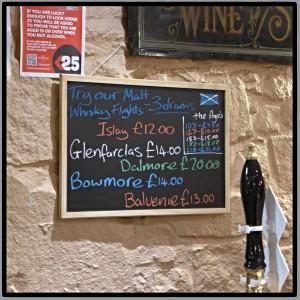 And if you're new to whisky or want to sample a few without breaking the bank then you can try some of their whisky flights – the Balvenie is especially good value as it includes a 21 year old.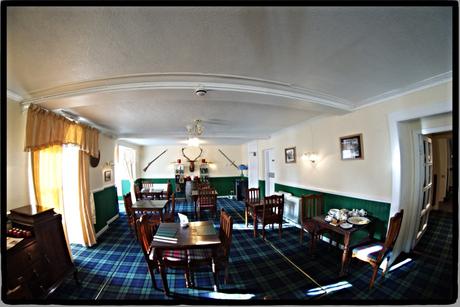 Breakfast Room
In the morning we headed down for breakfast. The breakfast room is a bit more old-fashioned and typical of many Highland hotels with a twee tartan carpet, stag's head, claymore and hunting rifle on the wall.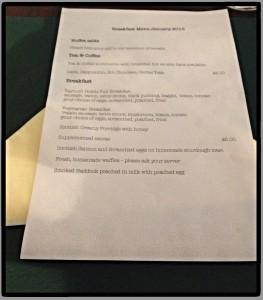 Breakfast Menu
We were disappointed that there was no eggs Benedict for breakfast considering it was on the dinner menu.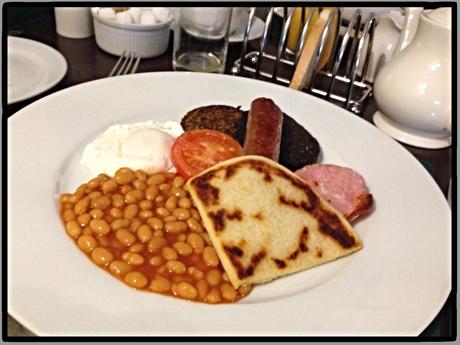 Full breakfast
After the excellent meal the night before the full breakfast was a bit of a let-down. There was nothing wrong with it, it was just a standard breakfast and lacked any wow factor.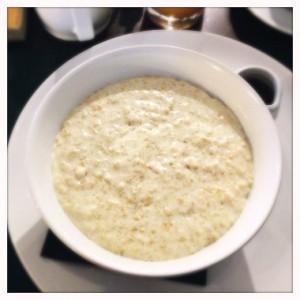 What a bowl of porridge!
The porridge on the other hand was lovely – a huge bowl, really creamy and especially delicious with the provided honey.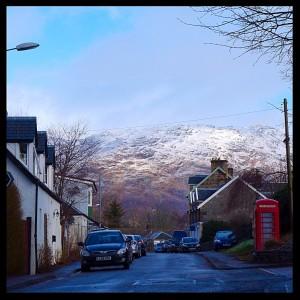 Beautiful mountainous scenery in Taynuilt
This is the road to the train station, it's only a 5 min walk past a butchers, post office and tea room. We were allowed to stay a bit longer to marry up our checkout with the time for the next train to Glasgow (there are only 5 a day).
We enjoyed our stay at the Taynuilt hotel, the new owners have done a great job of turning the hotel into a place that still retains its Scottish countryside charm but is forward-looking at the same time – with food provenance an important factor ensuring that food is sourced locally and freshly prepared. They have a great selection of Scottish craft beers, the whisky flights are a great touch and they also have wine tasting nights and other events to draw people in from the local area. All staff were helpful & friendly and the pub/restaurant toilets were clean. The next time we are passing through we shall be stopping off so see what's on the day's menu, or perhaps if we're on the train drop in to tick off a few of the whisky flights…
TL;DR
+ amazing food
+ great beer selection and whisky flights
+ friendly staff
+ good room with comfy bed and lots of nice touches
+ stunning scenery in local area
- breakfast wasn't up to same standard as dinner
We stayed as guests of the hotel.