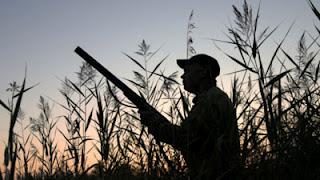 Local Fox News reports
Deputies say a Kernersville man who was accidentally shot while hunting Monday has died.
Tommy Lee Clinard, 63, was found shot in a field near the 2300 block of Pisgah Church Road around 7 a.m. Monday, according to Chief Deputy Brad Stanley with the Sheriff's Office. The victim was pronounced dead at the scene.
Stanley said Clinard, who was hunting turkeys, was shot once by another hunter in the area.
What's your opinion? Is hunting a sick activity, or what. Not only is it about killing animals, which is sick, but every once in a while the hunters kill each other.
What do you think about that? Let us know.