Point, click, buy…own a piece of design genius for under $200

I have to admit I was initially scared to look at the new Kelly Wearstler eCommerce website…Would the prices and products be so outrageous I would leave depressed that it was utterly unattainable? I finally caved, thanks in part to Christine Martinez pinning a few of her faves for me on Pinterest. Interestingly, the new website impressed me in two ways: first, I think they created a site that is a very easy-to-navigate, user-friendly, typical eCommerce experience that lessened those initial fears, while adding in little bits of the KW brand. Second, there are actually a lot of products that I (and an average design-hoarder) can afford! Rejoice!
First let's talk about the site design. It certainly isn't as avant-garde as her interiors can be, which I think for a B2C commerce scenario for mass-produced inventory is actually a good thing. You may disagree and think she's gone mainstream, but I honestly think this was a smart business move on her part. Let's be real: if you're going to start creating products you want people to buy, you have to make it easy for people to buy them.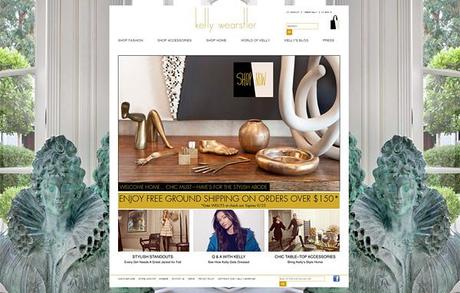 [ the new homepage ]
But what I really love? She made sure to retain little brand cues that let us know she's still in there. Examples: calling her colorways "hues", the suggested items "Get my vibe" , and adding the shopping bag icon with the split diagonal black\cream. Genius tiny brand moves in my humble opinion.
So let's talk shopping now, shall we? The fun part for us all, really. Hey I was able to find a bunch of gems for under $200! Here are my picks: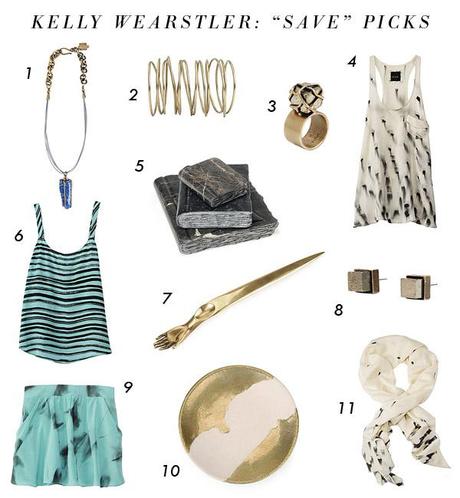 SAVE \ 1 \ 2 \ 3 \ 4 \ 5 \ 6 \ 7 \ 8 \ 9 \ 10 \ 11 \
And if money was no option? I am seriously crushing on these quintessential-KW pieces: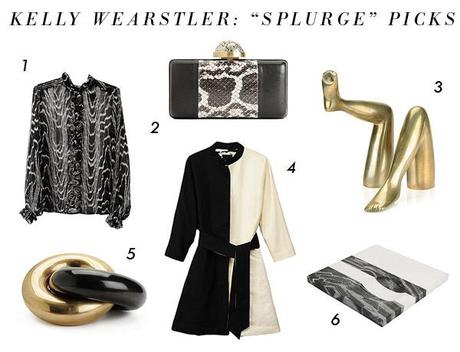 SPLURGE \ 1 \ 2 \ 3 \ 4 \ 5 \ 6 \
Have you looked at new KellyWearstler.com yet? I would love to know your thoughts — I imagine a lot of you may disagree with me, so I definitely want to hear it. Since branding and web design is my job, you'll be helping me out! ;o)