Tours of the Ken and Phyllis Laurent House in Rockford, Wright's only accessible building, start June 7. Slideshow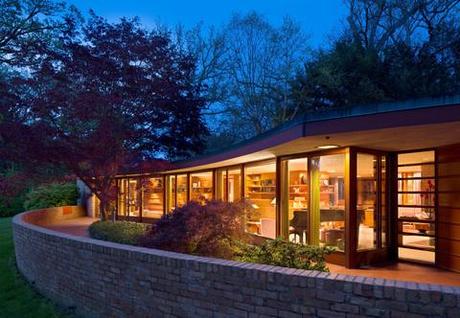 The Kenneth and Phyllis Laurent House, designed by Frank Lloyd Wright, features a solar hemicycle footprint. Image courtesy of Wright Auction House.
A house that Frank Lloyd Wright designed for a couple in Rockford, Illinois—the only handicap-accessible building in the celebrated architect's portfolio—is preparing to open to the public for the first time on June 6 after an exhaustive preservation and restoration effort.
The Kenneth and Phyllis Laurent House is named for the couple who occupied it from 1952 until they both died in 2012. They met when they were both working at the National Lock Company in Rockford and were married shortly before the United States was drawn into World War II. Ken Laurent enlisted in the Navy and underwent surgery during his service for spinal problems. The operation left him paralyzed from the waist down.
As the couple were preparing for Ken to be discharged from the Edward Hines Jr. VA Hospital, Phyllis came across an article by Loren Pope about the house that Wright had designed for him and his wife, Charlotte, in Alexandria, Virginia. She wondered whether Wright could be persuaded to design a house that would accommodate her husband's new needs.
Ken put pen to paper in August 1948. Along with a preliminary budget and a description of his lot, he included the following note: "To give you an idea of my situation, I must first tell you that I am a paraplegic. In other words, due to a spinal-cord injury, I am paralyzed from the waist down and by virtue of my condition, I am confined to a wheelchair. This explains my need for a home as practical and sensible as your style of architecture denotes."
Slideshow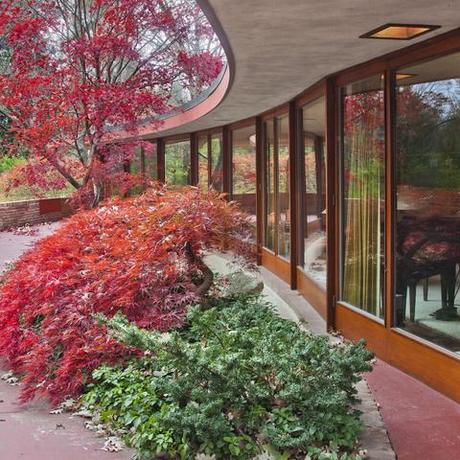 The house is one of about 60 so-called Usonian houses that Wright designed for middle-income clients starting in 1936. Image courtesy of Wright Auction House.
After some back-and-forth, Wright responded by drafting a complete floor plan in the course of about two hours one night in July 1949. A contract was signed later that same month, and the Laurents moved into their new house in May 1952. They would live there happily for the next 60 years.
"Part of his genius was that he didn't consider a house plan being acceptable to the masses; he designed for specific clients," Jerry Heinzeroth, the board president of Laurent House Inc., says of Wright. "Every one of his houses is different because it was designed to meet that client's requirements, and the fact that he did this for a person who was going to be spending the rest of his life in a wheelchair—he could have thought of it as a niche market for himself, but he never thought of it that way.
"These were his client's needs," Heinzeroth added. "They were very closely explained to him, and he took those needs and wrapped them in the beauty of the houses that he always designed. Your first impression of this house would not be that it was designed for a person with a handicap."
The house features an accessible design that was all but unique for the time, decades before the Americans With Disabilities Act would make accessibility commonplace—and mandatory for all new public buildings. There are no thresholds, and the floors are level with the walkways outside, Heinzeroth says—a design feature that allowed Ken to "literally go anywhere on the property" without assistance. "One of Ken's stipulations was, 'If I ever change my mind in the house, I don't want to have to back up; I just want to turn around in my wheelchair and go somewhere else," Heinzeroth says. "Wright accommodated that with large doorways and large hallways."
Wright, who designed all of the furniture in the house, struck up a friendship with the Laurents that outlived their architect-client collaboration, inviting them to "drop in anytime" at Taliesin, his home in Wisconsin, Heinzeroth says. The architect also encouraged friends and prospective clients to check out "my little gem" when they were passing through or near Rockford, Heinzeroth says.
Heinzeroth befriended the Laurents in 2004, and they collectively initiated a discussion about preserving the house and opening it to the public. Raising money proved a challenge, one that was compounded by the financial crisis that struck in 2008. Within a few years, the Laurents found themselves in the position of needing to access the equity in the house to finance a move to an assisted-living facility. They put the house up for auction in 2011.
The possibility that the house would shift to a new private owner gave the preservation effort renewed urgency, Heinzeroth says, and the money to purchase the house was raised in just five weeks. The foundation paid $578,000 to purchase it at auction and has since secured a loan for $400,000 to finance a restoration effort, including the replacement of a section of the master bedroom ceiling that collapsed during a winter storm in March 2013. A new fundraising campaign will be launched to help the foundation retire that debt.
The house is scheduled to open to the public for the first time on Saturday, June 7, and will be open the first and last weekends of each month. Reservations are required; the cost of admission is $15 per person.