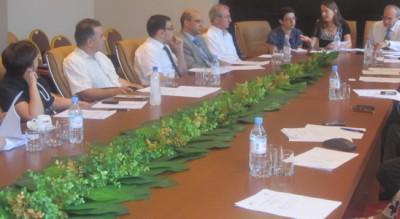 In Armenia with AFIC, discussing the results of the international property markets scorecard. (Photo: CIPE)
When it comes to limitations faced by small and medium enterprises (SMEs) in property markets, inadequate access to credit is one of the more common complaints. One of the key components of a well functioning property market is an efficient, transparent financial sector that provides a broad range of citizens with access to multiple forms of competitive credit so that they can start businesses, build wealth, and purchase property. In countries where SME access to finance has been difficult, finding a way to frame a productive discussion on the topic is an important first step.
In Armenia, where CIPE and the Association for Foreign Investment and Cooperation (AFIC) recently conducted a roundtable on barriers affecting SMEs in property markets, issues with SME access to credit were evident. The roundtable followed focus groups and interviews that AFIC conducted with stakeholders in the capital Yerevan and another major city Dilijan following the methodology of the international property market scorecard. Representatives from various SME associations, banking sector, international organizations, and NGOs attended and shared their views, which re-confirmed the key findings of the earlier focus groups and interviews. A reoccurring theme was how expensive and in many cases inaccessible financing is for SMEs.
Given the lack of angel financing, Armenian SMEs rely on banks and microfinance organizations. However, microfinance institutions provide mainly micro-loan services that are often insufficient to expand a business while banks have strict policies mandating collateralization (primarily requiring real estate as collateral) that excludes many small businesses from commercial debt markets. High interest rates – ranging from 12 to 22 percent per year – make credit unaffordable for many.
It is important that the government take more active role in helping SMEs obtain affordable financing, notably through developing a system of policies and guarantees that would reduce the collateral burden involved in traditional loans. On the other hand, SMEs also must make an effort to show greater loan worthiness to banks through better prepared business plans, professional accounting, and good governance. If lending risks are reduced, the availability of credit and interest rates should reflect that, helping SMEs gain access to financing they need to prosper and grow.