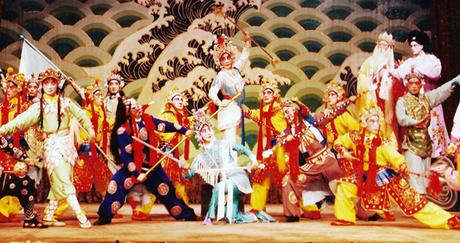 Peking Opera or Beijing Opera is a form of traditional Chinese theater. This style of representation combines vocal performance, music, dance and acrobatics and features highly complex elements of costume and makeup.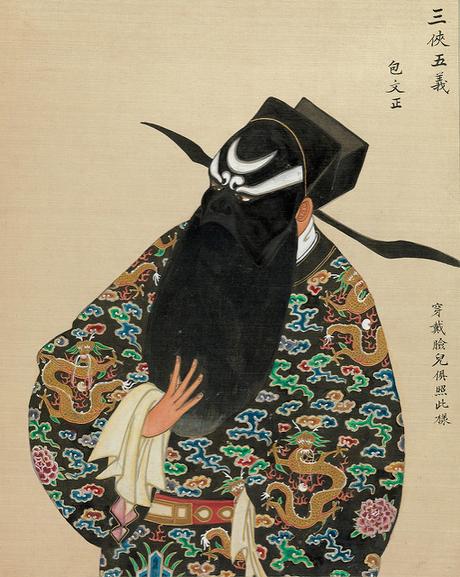 The genre arose in the late 18
th
century and became developed and recognized in the mid-19
th
century. It's believed that Peking Opera appeared in 1790, when four opera troupes came from province of Anhui to Beijing to perform for the Emperor on his 80
th
birthday. Peking Opera shows were extremely popular in the Qing dynasty court and have eventually become one of the cultural treasures of China.
Peking Opera features four main types of characters: a Sheng (a main male role), a Dan (a main female role), a Jing (a male with a painted face role) and a Chou (a male clown role, which usually plays a secondary field). Each of these categories has multiple variations and sub-categories. For example, the Jing can have one of the 15 basic facial patterns, but over 1000 specific variations of these, each design being unique to a specific character.
Performers in Peking Opera shows work with a variety of stylistic conventions that guide and help audiences navigate the plot of the production. Each movement must be expressed with music, which is divided in the Xipi and Erhuang styles, which include different types of music from arias and fixed-tune melodies to percussion patterns. These songs include over 1400 works and are based on Chinese history, folklore and lately, on contemporary life.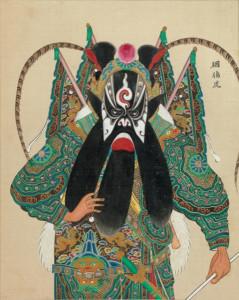 Initially, only male performers were allowed to participate in a Peking Opera play. Only from the 1870s on, women were included in stage appearances as well. Even if this was the case, male performers continued to play many Dan roles.
One of the most vibrant aspects of the Peking Opera are the costumes and makeup worn by the performers. Each role has its visual features, which are filled with meaning and fundamental information about the nature of the character.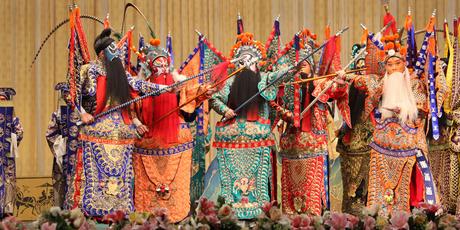 Makeup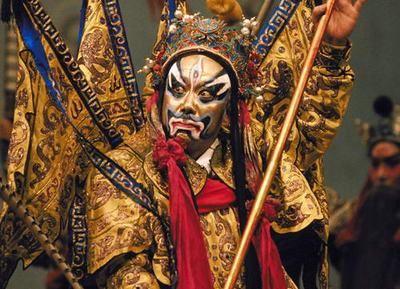 Dan and Sheng roles usually only have "beautifying makeup", which is rather simple. On the other hand, Jing and Chou roles feature makeup that is a lot more complex. One of the most fascinating things about Peking Opera is that, for example, Jing characters often have a pattern painted on their faces that reveals their personality. In this sense, an experienced viewer of Perking Opera shows needs to only take a look at a character to understand and make sense of their characteristics. Colors also play an important role in defining a character: red is and indicator of uprightness and loyalty, black defines a forthright and rough personality, while blue stands for a brave persona. The shape of the eyebrows (there are 26 possible shapes, for example: "sawtoothed eyebrows"; "sword eyebrows", etc.) also give a viewer insight into the character.
One other thing that needs to be noted is that the amount of the face covered in paint is also an indicator of who the character is: the more a face is covered, the more viperous the role.
Costumes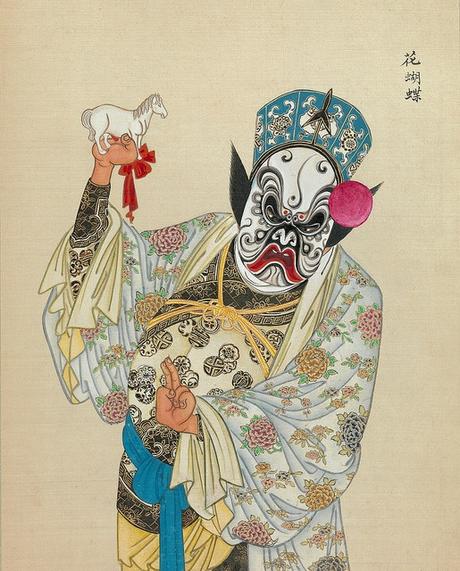 The major costumes can be categorized into four main groups. These are the mang, representing a court robe worn only by the members of the imperial family, prime ministers or military elite such as generals; the pei, which describes the casual clothing worn by imperial members or by upper class people; the kao, which is a type of armor worn by warriors and the zhezi, which defines the casual clothes worn by the middle class and ordinary persons. All other costumes go under the umbrella term "yi", which simply means "clothes". Of course, each of these has its characteristics and requirements. As in the case of makeup, each costume type has countless variations and sub-categories, different from one another in terms of colors and patterns.
The clothes worn by the performers are accessorized with elaborated shoes and accessories that include a variety of impressive crowns, hats, helmets, caps, wigs, belts and more.
It is highly fascinating to discover the Peking Opera figures, symbols and roles and to understand that they are a mere reflection of the way in which life works: visual cues tend to give psychological cues and to cause emotions. If art is an expression of life, then the Peking Opera is a great art form that connects real life and art though look and appearance, which makes is remarkable, intriguing and though-provoking.
The Peking Opera is a fascinating cultural experience featuring stunning singing, great stories, remarkable costumes, mysterious masks, refined gestures and impressive music that make it unique and impressive.
Fraquoh and Franchomme
P.S. We want to hear from you! What do you think of the Peking Opera costumes? How do you related to them? Which is your favorite Peking Opera show? Share your feedback, questions or thoughts in the comments below! For more articles on style, fashion tips and cultural insights, you can subscribe to Attire Club via e-mail or follow us on Facebook, Twitter or Instagram!