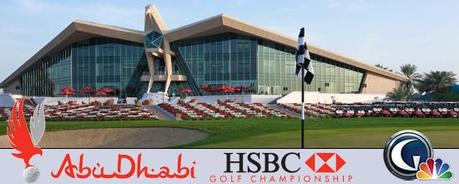 Abu Dhabi HSBC Golf Championshiop Quick Stats:
Location: Abu Dhabi, United Arab Emirates
Course: Abu Dhabi Golf Club
Par: 72
Length:7,600
Prize Pool: $2,700,000
Last Years Champion: Robert Rock
This weekend is pact with golf action with both the Humana Challenge taking place as well as the Abu Dhabi HSBC Golf Championship.  We looked at the Humana Challenge in yesterdays post, and today I'd like to shed some light on the HSBC Golf Championship, which will mark the 2013 debut of the world's number one and two players, Rory McIlroy and Tiger Woods.
With both players now playing under the Nike umbrella, it should make for a great competitive rivalry. Finishing as runner up two years running, I think Rory McIlroy will be out for blood, and despite my early season predictions that Rory won't have a stand out year, I think he will finish this weekend victoriously.
As usual, the Golf Channel will be capturing all the action from Abu Dhabi with the following airtime schedule:
Wednesday 10:30 p.m.- 8 a.m. (Live)
Thursday 10:30 a.m.-2:30 p.m. / 11 p.m. – 2:30 a.m. (Round One Replay) 
Friday 2:30- 8 a.m. (Live) / 10:30 a.m.-2:30 p.m. / 10 p.m.-12:30 a.m. (Replay)
Saturday 4-8 a.m. (Live) / 10:30 a.m.-2:30 p.m. / 10 p.m.-12:30 a.m. (Replay)
Sunday 4- 8 a.m. (Live) / 10:30 a.m.-2:30 p.m. / 10 p.m.-12:30 a.m. (Replay)
Here's a look at some of the hype leading up to this highly anticipated event:
Who ya got: Tiger or Rory in Abu Dhabi?
Gary Williams & Matt Ginella of Morning Drive debate whether Tiger or Rory will have a better debut this week.
Golfers - On your mark, get set...
Golf Talk Central's Jason Sobel and Randall Mell preview the Abu Dhabi HSBC Golf Championship as well as Tiger Woods and Rory McIlroy's upcoming season.
Press Conference - Abu Dhabi HSBC Golf Championship
Tiger Woods speaks at a press conference