Recently passing through Charles De Gaulle Airport, I was happy to have had the chance to purchase a few of the new limited edition bottles of Absolut Vodka. As you know I collect them and this new design initiative called 'ABSOLUT Unique' got me all excited to start collecting. I bought a few at the airport. Each bottle is unique and beautifully designed.
I love this brand, they always take a step further in making their brand stand out and making it's consumers feel special somehow.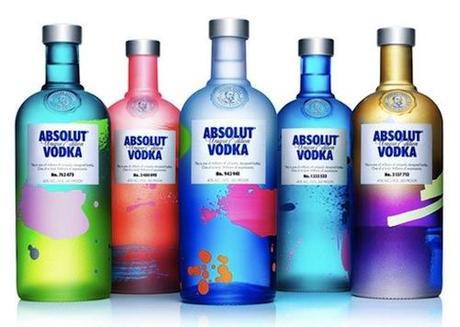 Lets know more about them:
To make it happen, the brand had to completely re-engineer the company's production plant in Sweden to create the limited-edition bottles.
The process involved "carefully orchestrated randomness", setting up splash guns and color-generating machines specifically programmed to generate complex coating, pattern and placement algorithms—the executives told Ad Age—so that no two bottles are alike, like snowflakes.
"A lot of world-class creators have made their interpretations of our iconic bottle. But this time ABSOLUT was the artist."
Each one-of-a-kind bottle bears its own number to emphasize its uniqueness.
The designs include 38 different colors and 51 pattern types.
The bottles would be distributed in 80 markets worldwide, including US, UK, China France and Germany.
"Anyone could do one or two unique products," Tahlin said. "We're making close to 4 million."
VN:R_U [1.9.20_1166]