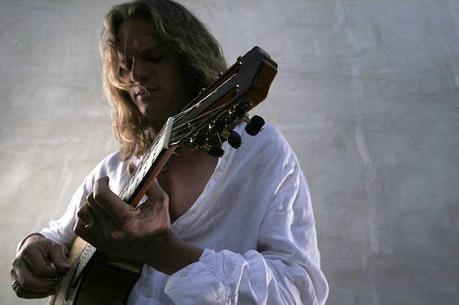 The Lemmings front man and solo artist Abri van Straten is not your typical LA musician. Originally from South Africa, the sounds off of his album "Sunlight and Shadows "are very smooth and quiet paired with his very rich and beautiful voice. So how did he end up in the city he described as constantly changing? In something almost out of a fairytale, he met True Blood actress Kristin Bauer (Pamela Swynford de Beaufort) and never left. Married now for two years, the pair is headed to Phoenix Comic Con this weekend. Ahead of his performance, van Straten gave an interview with the Phoenix New Times and writer Niki D'Andrea to discuss his music, fan conventions, and living in LA.
Abri grew up in an artistic household in South Africa and he started playing guitar at the age of 10. At the time, he listened to artists such as Simon and Garfunkel and Bob Dylan who used their life experiences as inspiration for their music. Naturally, he thought that was how music was supposed to be written. But Abri says that one of the reasons why he looked to artists such as Dylan and Simon and Garfunkel was not simply because of their perspective on life through music:
"If you look at the function of art, it's where people get their ideas from, and the ideas shape our reality. Everything around you started as an idea. Art and entertainment are not the same subject. Dylan and those guys looked at life, but also thought about the future."
In terms his own music, Abri confesses that he can spend a lot of time in his head when thinking about his songs regardless of the time of day. Occasionally though he'll come out for coffee.   Many of the songs from Sunlight and Shadows are inspired by living in Los Angeles. Not all of them are about how beautiful and sunny it is however. Behind the beautiful melodies van Straten plays are lyrics about things such as the ghosts of old movie stars and trying to adjust to living in a city that is worlds away from South Africa. And then there's a song like "Monet." It talks about "A girl with pale blue eyes" in such an amused and sweet way that it's easy to see why Kristin, the song's inspiration fell for the musician. Of how they met, Abri explains that he was on tour with his band, the Lemmings at the time when he met Kristin for coffee and the rest is history:
"Yes, now we are married. The universe was up to its old tricks again."
Along with his marriage came a whole new fan base for Abri. True Blood fans have come to embrace him and his music which might explain why he's playing an event like Phoenix Comic Con. He admits that until Kristin, he had never heard of fan conventions. But says that they've had nothing but fun when traveling for them during the past year.
Of the show this Saturday, Abri told the Phoenix New Times that he's looking forward to performing a solo show in the desert, saying that he enjoys the climate.
He will be performing at Sundance on the 1st floor of the Hyatt Regency Hotel in Phoenix from 6-7PM this Saturday, May 28th. For more information see our posting on Phoenix Comic Con here.
Source: Phoenix New Times.com- "Abri Van Straten Talks About the Function of Art, Being Married to Kristin Bauer, and His Upcoming Performance at Phoenix Comicon"
Image Credit: Jasmin Kuhn