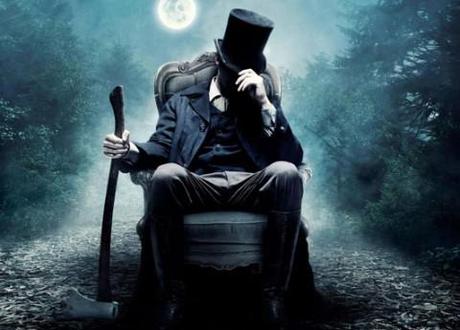 Abraham Lincoln, Vampire Hunter
The background
Abraham Lincoln: Vampire Hunter is directed by Timur Bekmambetov, and stars Benjamin Walker, Dominic Cooper, Rufus Sewell and Mary Elizabeth Winstead. It's based on Seth Grahame-Smith's graphic novel of the same name. It sees Abraham Lincoln (Walker) slaying the undead at night in revenge for one of them killing his mother. Er, that's about it as regards the plot. The whole of the American South is stuffed with vampires. Sewell plays the chief vampire, Adam; Cooper plays a vampire hunter.
It's too much like a video game
King of mash-ups, said Tim Robey in The Daily Telegraph, is Seth Grahame-Smith's Pride and Prejudice and Zombies. But whether it makes it as a movie depends a lot on this. And the answer's "touch and go." It could have been a "spoof … lampshading its own silliness." But instead, it plays it straight. The "whizzily digital slow-motion meless" have "a video-game unreality" which "stifles engagement." It's "not all bad", though.
But you'd have to be very solemn not to like it
It's "cheerfully subversive," said Peter Bradshaw in The Guardian, and its "self-aware crazines is the whole point." It's "so bizarre, it's tempting to imagine a franchies: Warren G Harding: Vampire Hunter, Jimmy Carter: Vampire Hunter," and so on. Bekmambetov "directs with gusto", and the "absurdity" combined with the film's "self-belief is winning." However, you'd have to be "very solemn" to object to it.
None of it makes any sense
Kate Muir on The Times was less forgiving. It's "an unholy mash-up of history, horror and sheer stupidity." It's possibly the "worst-but-watchable film of the year." Walker is "slightly wooden", whilst Cooper camps it "up to the nines" with his "quiff and a tendency to quaff blood-red wine and … hmm … wear sunglasses." The town is very "Farrow & Ball", contrasting with "some very blood-spurty scenes." But where are "the Vampire Rules?" The vampires have no reflection, but have no problem with daylight. "Sort it out, undead people!" None of it "convinces or makes any sense."
It's all Rupert Murdoch's fault
Nigel Andrews on the Financial Times bemoaned that it "is not enough to kill vampires, you must do it atop roaring trains, burning bridges or stampeding horses." He blamed Fox, one of Rupert Murdoch's outposts. How about "Rupert Murdoch, Zeitgeist Killer?" instead?
 There's no narrative; but it's entertaining (a bit)
Den of Geek said there was a point when it looked like Bekmambetov would take the movie world "by storm." But that's not been the case. Walker, though, is "a compelling protagonist." But linking the film to Lincoln's career "proves to be a narrative brick wall." Plus, pinning the blame for slavery on vampires is "downright irresponsible." This "reductive approach to character, genre and history is a real problem." It's "hollow", but still vaguely entertaining.
Watch the trailer here!