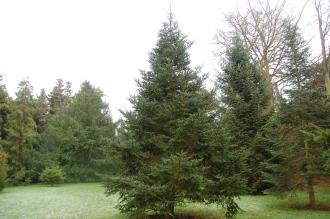 Abies fabri (30/01/14, Kew Gardens, London)
Position: Full sun to light shade
Flowering period: Spring
Soil: Moist, well drained
Eventual Height: 40m
Eventual Spread: 10m
Hardiness: 6b, 7a, 7b, 8a, 8b, 9a, 9b
Family: Pinaceae
Abies fabri is an evergreen coniferous tree with a broad conical habit. Its glossy dark green leaves are needle like, flattened, up to 3cm long and 2.5mm broad. Its trunk may achieve a diameter of up to 1m. Its brown/ gray bark is smooth. Its male flowers are pale yellow pollen cones. Its fruit are cylindrical cones, up to 11cm long, 4.5cm broad, purple when young, maturing to purple/ blue.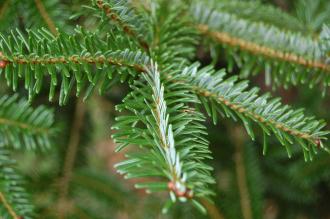 Abies fabri Leaf (30/01/14, Kew Gardens, London)
Abies fabri, commonly known as Faber's Fir, is native to Sichuan, west China. In its native habitat it grows in in mixed mountain woodland from 1500m to 4000m.
The etymological root of the binomial name Abies is derived from the ancient Latin name for the Fir tree. Fabri is named after Ernest Faber (1839 – 1899), an English cleric who collected plants in China.

When available the landscape architect may find Abies fabri useful as an attractive ornamental evergreen tree.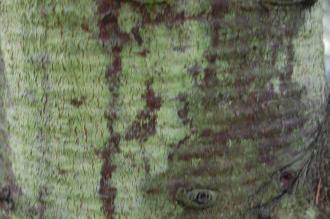 Abies fabri Bark (30/01/14, Kew Gardens, London)
Ecologically,  Abies fabri seeds are attractive to some birds.
Abies fabri prefers moist, fertile, well-drained soils. It prefers an acid to neutral pH of soil.
Abies fabri requires little maintenance.