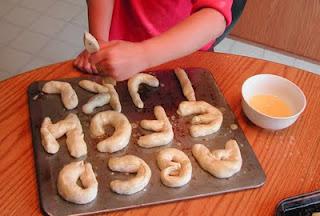 ABC Pretzels help young children learn the alphabet and are delicious to eat!
   When my children were small we lived in a 150 year old farmhouse in upstate New York.   The lack of insulation made the house difficult to keep warm, so on cold winter days cooking projects were always popular.  ABC pretzels were a favorite recipe.  My daughter and son loved to squish the flour and water between their fingers as they kneaded the dough.  Then they tore off chunks, rolled them into strips, and bent them into letters.  Even my three year old, with a little help, could form the M, A, T, T of his name.  After they were cooked he proudly ate them one at a time, saving the M for last. Now I make ABC pretzels with my grandchildren. (These pretzels resemble the soft Philadelphia style pretzels that you can eat with mustard.)  Here's the recipe:
ABC PRETZELS
1 ½ cups water
1 package dry yeast
4 cups flour
1 tablespoon sugar
1 teaspoon salt
1 egg beaten slightly with 1 tablespoon of water
coarse (Kosher) salt
   Dissolve yeast in the water.  Mix together flour, sugar and salt.  With a large spoon work flour mixture into yeast mixture in a large bowl.  When about 3 cups of flour have been worked in, begin to knead mixture on counter while working in the remaining flour.
   Divide the dough into 18-24 parts.  Shape dough into letters and place on greased cookie sheets.  "Paint" with egg-water mixture and sprinkle with salt.
   Bake 15 minutes at 425 degrees F.