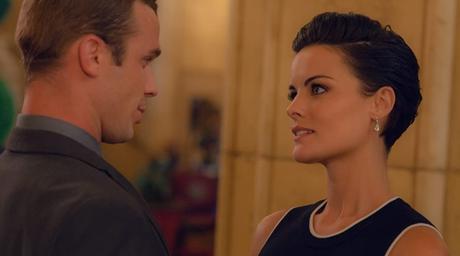 This is under J because of lead actress Jaimie Alexander,
Director: Bram Coppens
Writer: Jim Agnew, Sean Keller (Screenplay)
Starring: Jaimie Alexander, Wes Bentley, Cam Gigandet, Astrid Coppens, Alexandra Breckenridge
Plot: A charming yet troubled man spirals into a rage after being rejected by the woman he initially seduced.

Tagline – 'Til death do us part.
Runtime: 1 Hour 30 Minutes
There may be spoilers in the rest of the review
Story: Broken Vows starts when Tara (Alexander) is on her bachelorette party with her best friends Justine (Coppens) and Debra (Breckenridge), where she meets a mysterious stranger Patrick (Bentley) with one thing leading to another, the pair have a one-night stand.
When it turns out Patrick believes the two are meant to be, he looks to get back into the life of Tara's and when she asks him to leave her alone, her own wedding gets added problems.
Thoughts on Broken Vows
Characters & Performances – Tara is about to get married, with her bachelorette party weekend happening, she gets drunk and hooks up with a stranger as one last fling. She wants to get back to her normal life, well preparing for her wedding, but must deal with the man who starts stalking her, not letting her get on with her life. She doesn't want to break the heart of her husband-to-be with her affair and needs to find a way to keep him quiet. Jaimie Alexander is the great in this role, showing a woman remaining in control after her own mistake. Patrick is the bartender that Tara meets, he comes off mysterious, before showing stalker tendencies, coming into Tara's life looking to get her back. He is a mentally unstable man that has a history of his stalker action, leaving you wondering how he is still on the streets in the first place. Wes Bentley does give us a genuinely creepy performance for the most part of the film. We get to meet the husband-to-be who is just preparing things, along with the best friends of Tara, none of them get to make the impact in the film.
Story – The story here follows a woman who has a one-night-stand on her bachelorette weekend only to find out the guy is a stalker that doesn't want to let her forget about their night together, looking to ruin her life before her wedding. This is one of the by the book stalker movies, showing us how one person will see their life turned upside after one slip up, showing us how a stalker can put themselves into their life, looking to ruining, with the panic of holding everything together. The story does have a big question about whether Patrick should be free in society with his reputation, he does seem to be too dangerous to be casual around people. As for how it all unfolds, we kind of know how it will happen, leaving little to the imagination along the way.
Themes – Broken Vows is a thriller that will give us a chance to see how one person's life can get turned upside by a stalker, leaving them with little chance of escaping, it is mostly in the background scheming, rather than getting involved till much later in the film.
Final Thoughts – Broken Vows is a by the book thriller that does have a creepy performance from Bentley, but struggles to move away from what we have seen before.