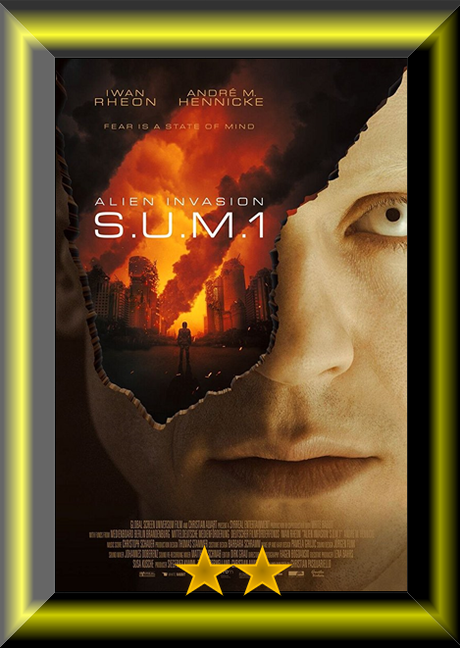 Director: Christian Pasquariello
Writer: Christian Pasquariello (Screenplay)
Starring: Iwan Rheon, Andre Hennicke, Rainer Werner, Zoe Grisedale, Niels-Bruno Schmidt, Norman Reedus
Plot: An aggressive race of aliens took over Planet Earth and humanity's at its end, living in giant bunkers below ground. Young Military rookie S.U.M.1 (Iwan Rheon) is sent to the surface to save a group of unprotected survivors.

Tagline – Control your fear.
Runtime: 1 Hour 32 Minutes
There may be spoilers in the rest of the review
Verdict: Doesn't Hit the High Points
Story: Alien Invasion: S.U.M.1 starts in a world where aliens have taken over the surface, forcing humans to live underground, small groups still try to live on the surface and the humans below are required to serve 100 days in watch towers, where they are meant to watch for any threats and search for anybody in danger.
S.U.M.1 (Rheon) is the latest soldier sent to a watch tower, the previous guard is gone, as the days tick past, he starts to question what is happening, believing he has sensed a threat within his own tower, waiting for technical support to arrive, he is left to wonder what the true purpose of his mission will be.
Thoughts on Alien Invasion: S.U.M.1
Characters – S.U.M.1 is the latest solider assigned to an outpost, he knows he routine and is prepared for the by the book instructions he is meant to be following, his 100 days don't seem to go to plan as he starts to wonder if he is alone of not, asking too many questions, unable to find answers and making a friend with a rat. Mac is one of the engineer sent to try and help fix the problems in the station, he is mostly used to fill in the answers to everything else going on.
Performances – Iwan Rheon is the actor that does the most work here, where he is great to see carry the movie with his performance, considering a lot of the film doesn't have much going on. The supporting cast only get a couple of scenes, where they don't do anything wrong, without being tested either.
Story – The story here focuses on a world destroyed by an alien invasion, with the few remaining survivors living underground, needing to surface in to watch over any other threats which may come their way, we follow one man left to watch for his required 100 days. This is a story focused on isolation, fear that can be placed into somebody's mind and the ideas of what mankind would do after an alien invasion, when the humans have regrouped. We only really follow one man's 100 day service, which doesn't really do much when it comes to follow what he is meant to be doing, which only ends up leaving us feeling mostly empty by the end of the film. This is a story that seems to be all tease, without having any sort of satisfying outcome.
Horror/Sci-Fi – The horrors in this film come from seeing the lone man dealing with the isolation he has been struggling with through the film, in a world which is meant to have seen aliens take over the Earth.
Settings – The film keeps the settings within one location, an outpost which is surrounded by the woodland area, it plays into the horrors being experienced through the film.
Special Effects – The effects are not the best, we don't use them much and when we do, it all seems to end up being weak CGI material.

Scene of the Movie – Breaking free.
That Moment That Annoyed Me – Not much goes on during the 100 days.
Final Thoughts – This is a largely disappointing sci-fi horror that seems to be more about almost rather than giving us enough to digest.
Overall: All the Slow Build.