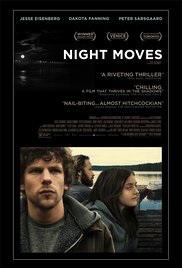 Director: Kelly Reichardt
Writer: Jonathan Raymond (Screenplay)
Starring: Jesse Eisenberg, Dakota Fanning, Peter Sarsgaard, Alia Shawkat, Logan Miller, Kai Lennox, Katherine Waterston
Plot: Three radical environmentalists look to execute the protest of their lives: the explosion of a hydroelectric dam.
There may be spoilers the rest of the review
Verdict: Very Slow
Story: Night Moves starts as we follow Josh (Eisenberg) and Dena (Fanning) who are environmentalists looking to find a way to change the world before it gets destroyed. Tired of the peaceful protests the couple head off to meet radical Harmon (Sarsgaard) who has a plan for a true statement the world will take notice off.
We watch how the three bring together the equipment to send their message and we are left to wonder if they will go through with it and what impact it could have on the environment.
Thoughts on Night Moves
Characters/Performance – Josh and Dena are young idealistic environmentalists that are out on a mission to work with the radical Harmon they sum up the frustrated generation of how the world get mistreated and want to change it in their own way. Harmon is full left field, he wants to enjoy seeing the world change because of what they do.
Performance wise, we know how capable all three actors are, but sadly through this film we don't get to see just how talented they are. I feel it is the script which holds most of this back really.

Story – The story shows how environmentalists can push things to the extremes but must deal with the consequences of those action. The story is incredibly slow paced never pulling you into care about these characters or their actions and by the end everything all feels very flat indeed.
Thriller – You simply don't get sucked into this story or what is happening because of the poor pacing within the movie.
Settings – The settings show the nature that these characters want to see live on, we also get to see just what has been happening with the human impact, so this does help us understand the situation the characters find themselves in, in a weird way.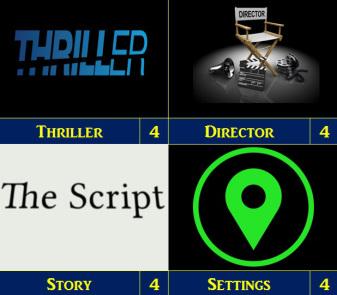 Final Thoughts – This was a very slow movie, it has a story that doesn't drag you in and most disappointingly the film really doesn't go anywhere.
Overall: Disappointing and slow film.
Rating

Advertisements
&b; &b;