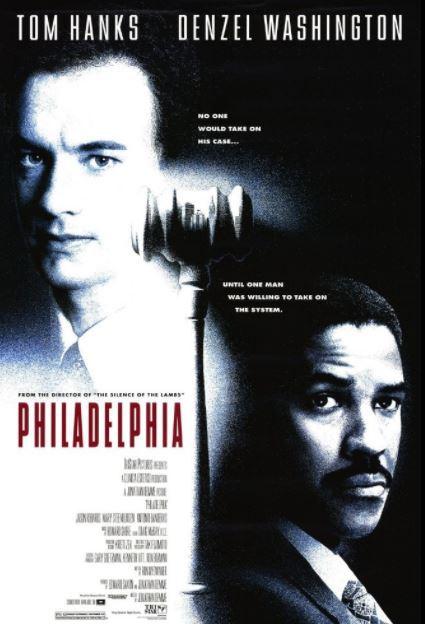 Director: Jonathan Demme
Writer: Ron Nyswaner (Screenplay)
Starring: Tom Hanks, Denzel Washington, Roberta Maxwell, Buzz Milman, Karen Finley, Antonio Banderas, Jason Robards, Mary Steenburgen, Ron Vawter, Robert Ridgely, Charles Napier
Plot: When a man with HIV is fired by his law firm because of his condition, he hires a homophobic small time lawyer as the only willing advocate for a wrongful dismissal suit.

Tagline – No one would take on his case… until one man was willing to take on the system.
Runtime: 2 Hours 5 Minutes
There may be spoilers the rest of the review
Verdict: Powerful Drama
Story: Philadelphia starts as we meet two rival lawyers, Joe Miller (Washington) who fights for the innocent and Andrew Beckett (Hanks) a company man who has risen up the firm to become an associate partner, but Andrew has been fighting a sickness, aids.
When Andrew gets fired from the law firm, he turns to Joe to sue for wrongly termination from the firm after he believes he was sabotaged because of his illness, but Joe's own homophobic mindset and his questioning how contagion aids is. Joe eventually puts aside his prejudices and takes the case against the law firm, but it becomes a race against time for Andrew.
Thoughts on Philadelphia
Characters – Andrew Beckett is the brilliant lawyer on the rise within his firm, just after he gets a promotion, he finds himself getting sacked for having aids and being homosexual. He has always been good to the staff he works with and wins his cases but now he battles his illness and wants to sue for wrongful dismissal. Joe Miller is a homophobic ambulance chaser, he wins cases for personal injuries, he is reluctant at first but decides to take the case where he must learn to put his own prejudices aside. The rest of the characters focus around the law firm that dismiss Andrew and Andrew's boyfriend Miguel as he supports him through his struggles.
Performances – Tom Hanks won an Oscar here, do I need to talk about how fantastic he is in this role, I think not. Denzel Washington also shows how brilliant he was in this role. The rest of the cast also give us wonderful performances throughout the film to make this one of the biggest films of the year.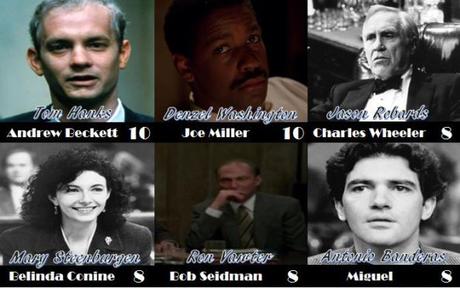 Story – The is a story about one man trying to fight against what he thinks is wrongful dismal for his sexual orientation and for having aids.  This is an important film that shows the discrimination people had with both people with aids and homosexuals which should never be a deciding part of whether to keep a member of staff. It is a powerful court room drama that shows us just how people can fight for what is right even if it is against their belief.
Settings – The film is set in Philadelphia which is a beautiful setting, we are mostly in the courtroom which is now becoming one of my favorite locations for a film to take place in.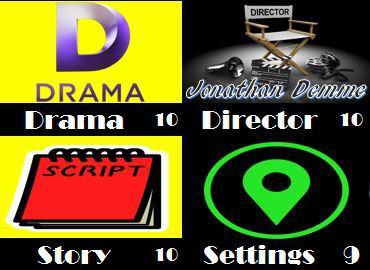 Scene of the Movie – Andrew's testimony.
That Moment That Annoyed Me – This is a difficult subject matter to watch for some.
Final Thoughts – This is one of the most important films you will see, it has two truly great performances with a supporting cast that is equally as great throughout the film.
Overall: Brilliant drama about the struggle.
Rating

Advertisements
&b; &b;