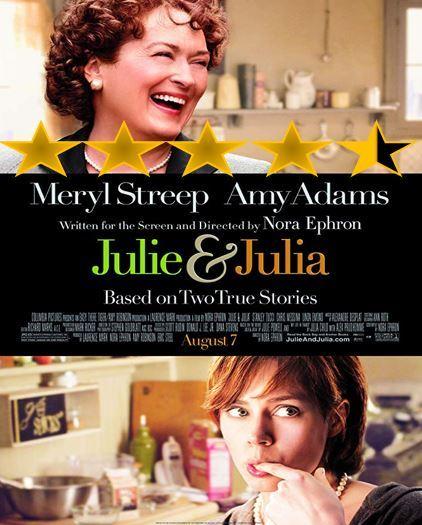 Director: Nora Ephron
Writer: Nora Ephron (Screenplay) Julie Powell, Julia Child, Alex Prud'homme (Book)
Starring: Meryl Streep, Amy Adams, Stanley Tucci, Chris Messina, Linda Emond, Helen Carey, Mary Lynn Rajskub
Plot: Julia Child's story of her start in the cooking profession is intertwined with blogger Julie Powell's 2002 challenge to cook all the recipes in Child's first book.

Tagline – Passion. Ambition. Butter. Do You Have What It Takes?
Runtime: 1 Hour 58 Minutes
There may be spoilers in the rest of the review
Verdict: Inspirational and Sweet
Story: Julie & Julia starts as we follow Julia Child (Streep) and her husband Paul (Tucci) starting to find her place in the world in France, where she finds a new passion for cooking, meanwhile in 2002 Julie Powell (Adams) moves to Queens with her husband Eric (Messina) who is getting tired of her everyday life, decides to start a blog, challenging herself to cook all the recipes in Julia's cook book within a year.
The two stories run next to each other with Julia studying cooking before getting a chance to teach and write the book that Julie is working from, while Julie starts to see a spike in interest for her blog, with people wanting to see just how far she gets into her challenge.
Thoughts on Julie & Julia
Characters – Julia Child is one of the most famous chefs from the 1950 and beyond, here we get to see how being a bored housewife that turned to cooking to keep her entertained, first studying it before writing the book that saw her take years to write with her co-workers. We only follow her time getting to the position of getting the book published. Julie Powell believed she had a bright future, now turning 30 she is stuck in a cubical job feeling out of place in life. Deciding to set herself a challenge, she wants to prepare every recipes in Julia Child's book within a year. Julie does see the success of her blog skyrocket with people wanting to see how she experiences the dishes through the year. Paul Child and Eric Powell are the supportive husbands of both the women, they both let them get on with their projects, stepping in only when they are feeling down about moments in life.
Performances – Meryl Streep and Amy Adams are both truly fantastic in their roles, they bring both real people to life by making both their characters filled with life in different generations. Stanley Tucci and Chris Messina both manage the supporting roles with ease, helping the two leads hold the spotlight, but stepping in when they need their characters to make impacts in the lives.

Story – The story here follows the early days in the cooking world for Julia Child as she starts to use her hobby to bring a new joy to her life, we also follow a small time blogger looking for a challenge, using the book to make a name for herself in the world as a cook that enjoys the challenge. The story manages to balance the two ladies challenges to make an impact, with Julia Child needing to go against traditions of male chef to get her book released, while Julie wants to prove she can complete something in her life. The tone of the story is told in a way that keep everything feeling calm and enjoyable and seeing what both the women achieve is a delight to see.
Biopic/Romance – The biopic side of the film shows two different sides of the lady's lives, seeing how they both had to overcome their own problems to achieve the challenge. The romance shows us just how the two women turned to their husbands to keep them strong.
Settings – The film uses two main locations, one was Paris with Julia seeing how a new vision for cooking, while Julie is stuck in a small apartment, which does show us just the book could be achieved by anybody whatever size their kitchen.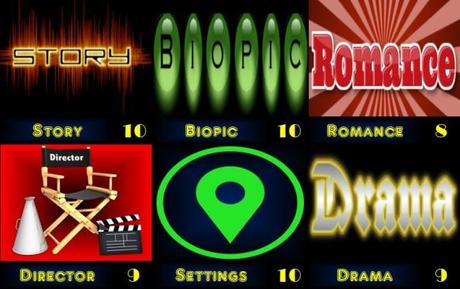 Scene of the Movie – The final chapter of the blog.
That Moment That Annoyed Me – Not a thing.
Final Thoughts –This is a delightful story about two women that used their passion for cooking to tell and bring new their stories to the people of the world.
Overall: Delightful
Rating